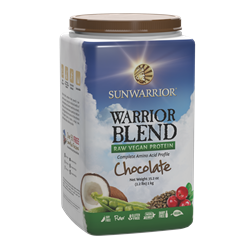 The new packaging promises to make using Sunwarrior easier for everyone.
Washington, Utah (PRWEB) January 20, 2015
Sunwarrior, a leading health and wellness company that makes plant-based protein powder and supplements, recently upgraded their packaging. The design makes a solid nod to Sunwarrior's past with their iconic branding that began in bags now placed in square plastic container reminiscent of the more recent boxes.
The new plastic containers are more in line with what competitors are using, but they are unique in many ways. The square, shrink-wrapped design hasn't been done before. These tubs are made entirely from recycled material, BPA free, phthalate free, and completely recyclable. The plastic Sunwarrior chose is also one of the safest plastics available, plastic #2, high-density polyethylene (HDPE).
"Our bags never displayed as well as we hoped, weren't recyclable, and never sealed well," said Nick Stern, cofounder of Sunwarrior. "Our boxes, despite displaying well and being recyclable, were difficult to hold, wasted money on shipping, required extra packing material, and never eliminated the resealing problem."
The new packaging displays well on shelves, can be carried with one hand, reseals with a twist, saves on shipping, abolishes the doubled up packaging, and minimizes waste all around. It promises to make using Sunwarrior easier for everyone, saving time, money, and hassle from field to shelf to pantry.
The video they created to celebrate the upgraded packaging says it best and can be viewed now. The cardboard puppetry is unique, fun, and takes a tongue-in-cheek approach to any past mistakes.
About Sunwarrior
Sunwarrior's mission is to illuminate body, mind, and planet. Sunwarrior relies on the original power from sunlight, captured by the wonderful plants found in nature, to change the way the world looks at fitness and nutrition.
Sunwarrior has grown rapidly since its inception many years ago at the Sedona Raw Food Festival. Sunwarrior now offers several raw, vegan products that are perfect for anyone and any lifestyle: two delicious protein powders to build muscle and speed recovery, activated barley for enhanced endurance, supergreens for probiotics, and liquid mineral complexes that nourish cellular function and boost the immune system with vital macro and trace minerals, like magnesium, iron, copper, selenium, and ionic silver.
Join them in their mission to share the health and healing energy from captured sunlight with everyone and truly transform the planet, one warrior at a time.
For more information about the new packaging visit http://www.sunwarrior.com/tubs. For more information about Sunwarrior visit http://www.sunwarrior.com.