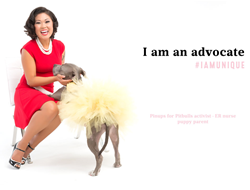 "All of our 'darlings' - our customers, employees, and brand partners - come from all walks of life, in all shapes and sizes, and from all backgrounds and beliefs. We really just wanted to pull back the curtain and celebrate that." - Katie Echeverry, CEO
Burbank, CA (PRWEB) January 20, 2015
While other brands have promoted the "perfect" body or ideal customer who's meant to wear their clothes, vintage-inspired fashion retailer Unique Vintage is differentiating itself by embracing the individuality of the diverse customer base that puts "unique" in its name with the launch of the #iamunique campaign – a yearlong celebration highlighting its unique community of customers.
"Unique Vintage has never been for just one type of person. We've always been this melting pot of people and we embrace that," said Katie Echeverry, owner and chief executive officer of Unique Vintage. "All of our 'darlings' - our customers, employees, and brand partners - come from all walks of life, in all shapes and sizes, and from all backgrounds and beliefs. We really just wanted to pull back the curtain and celebrate that."
To celebrate its eclectic following, Unique Vintage brought together a diverse group of darlings for a glamorous #iamunique campaign photo shoot including mommy blogger Jessica Cribbs of Burbankmom.com, employee and drag enthusiast Stan Salas aka "Latina Turner," and Michelle Choi, an emergency room nurse and pit bull advocate with the organization "Pinups for Pitbulls."!
"Super heroes don't always wear capes. They can wear scrubs or Unique Vintage!" said Choi. "I am extremely proud and honored to be involved with the #iamunique campaign. The opportunity to celebrate an individual's story and originality is very important in today's society. I loved seeing people from all different backgrounds come together to support an amazing campaign!"
Throughout the campaign, Unique Vintage will celebrate and showcase its eclectic following through the #iamunique hashtag where "darlings" will be encouraged to share their personal style and perspective. In addition, the campaign will be punctuated with surprise gifts, contests and curated fashion features from the new "#iamunique Style Society" of bloggers.
Friday, January 23rd, Unique Vintage will host a #iamunique launch party at its 4,000 square-foot retail space located at 2013 W. Magnolia Blvd. in Burbank, CA from 7pm - 9pm where customers, bloggers, and media alike are invited to an evening of fun and entertainment. Guests will be treated to cocktails and refreshments, from Deep Eddy Vodka, a #iamunique branded photo booth, giveaways and prizes, and a screening of the #iamunique commercial, followed by Q&A with the participants and Unique Vintage owner, Echeverry.
As the #iamunique mission statement sums up, "We want to celebrate how you express your own unique style, embrace your own unique body, and embody your own uniqueness. You are unique. And we want to celebrate you."
To RSVP, email elizabeth(at)unique-vintage(dot)com.
About Unique Vintage
Since the turn of the 21st century, Unique Vintage has offered vintage-inspired fashion to customers with a taste for classic clothing. Born out of owner and founder Katie Echeverry's love for vintage clothing, Unique Vintage takes cues from classic era silhouettes and styles and brings them fabulously into today with modern fabrics and colors, making their offering truly unique. The fashion retailer has made a name for themselves in Burbank, CA with customers, celebrities, and studios alike for their intricately beaded authentic deco dresses, retro high-waist and one piece bathing suits, fabulous flirty fifties dresses, and every day wear with a touch of vintage personality, proving that a classic never goes out of style.
Find Unique Vintage on Twitter (twitter.com/uniquevintage), Facebook (facebook.com/uniquevintage), YouTube (youtube.com/uniquevintage) and Instagram (instagram.com/uv_darlings) – and see more of the #iamunique campaign on http://www.unique-vintage.com/iamunique
#uniquevintage #iamunique