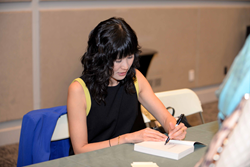 Cherish the freedoms you have and be a strong voice to those who need one.
Ontario, CA (PRWEB) January 21, 2015
American journalist, Laura Ling, gave an empowering speech to 1,000 vibrant women from the Inland Empire and beyond at Loma Linda University Health's 7th annual Women's Conference on Friday, Jan. 16 at the Ontario Convention Center.
In an interview prior to her keynote speech, Ling admitted, "It's easy to put health and wellness secondary. [The Women's Conference] is a necessary and important event." A wife and mother of two, Ling stated, "It's hard, but it's important to make the time for you."
No stranger to Loma Linda University Health, she added, "I'm in awe of the work Loma Linda does here and around the world. I'm proud and privileged to be a part of the event."
During her speech, Ling recalled moments from when she was held captive in North Korea for 140 days in 2009. Ling didn't ever imagine she would survive.
"My time in captivity was terrifying, but I found glimmers of humanity around me that gave me hope," she said, something as simple as a butterfly outside or simple conversation she would engage in with a female guard. Ling stated that she had a lot of time to reflect on her life, and once freed, her experiences gave her the strength to follow her passion "to shed light on the issues in the world that need attention."
In closing, Ling left the audience with an empowering message, "Cherish the freedoms you have and be a strong voice to those who need one."
After receiving a standing ovation, Ling later signed copies of her memoir, "Somewhere Inside: One Sister's Captivity in North Korea and the Other's Fight to Bring Her Home," which she penned with her sister, Lisa.
Also providing some words of wisdom to attendees was K-FROG Radio's Heather Froglear, who hosted the event for the seventh consecutive year. She said, "Magic can happen when you get a group of passionate, inspiring women together."
This sold out event themed "Ready. Set. Go Green. Think Lean." was designed for women of all ages seeking to be more proactive about their health and overall wholeness. Throughout the day women were treated to free massages, beauty touch ups, health information and screenings, breakout sessions on important topics related to health, fitness and style, and an afternoon keynote speech from Chef Marla Cohen.
First time conference attendee, Courtney Haas of Redlands, Calif., experienced the day with a group of coworkers and said the event went above and beyond her expectations. "Everything from the speakers, meals, venue, pampering room, health screenings, to the breakout sessions, the planning behind this event was phenomenal."
A writer herself, Haas said she was able to relate to Ling's way of thinking. "I think it was truly inspiring to hear her story and see how she has been able to continue working and have a family even after facing death on a daily basis during her time as a prisoner in North Korea."
Photos are available for download here: http://bit.ly/1xpTn8p