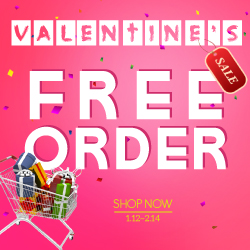 There are so many chances to win the prize that everyonr can participate in this activity.
(PRWEB) January 24, 2015
Since Fecbek.com has announced its Free Order Activity, it has evoked wild enthusiasm from customers. Up to now, there has been a high uptake of the Valentine's Sale. About 10936 fans join in this activity. As the spokesman says, anyone who places an order on Fecbek.com from Jan. 12 to Feb. 14 will have the chance to get his or her order gratis. Three lucky winners will receive their order for free; five people will win a first place prize of a $30 gift card; 10 people will win a second place prize of a $20 gift card; and 20 people will win a third place prize of a $10 gift cards.
As a leading B2C online fashion store, Fecbek.com has become one of the most popular retailers in the online market. The company always adheres to the philosophy of Beyond The Price in Value. The website is well-known for its reasonable price and high quality. The promotions of the website always receive enthusiastic responses and positive comments because of the effective market guiding, different sale methods and big discounts. In order to celebrate the Valentine's Day, Fecbek.com is excited to announce its Free Order Activity and kick off its Valentine's Sale as well.Customers can describe their order details and share their shopping experience at Fecbek.com, and they can share photos of friends or loved ones and tell a romantic or fun story, or customers can share something else about Fecbek.
"Our target customers are from all over the world. There are so many chances to win the prizes that everyone can participate in this activity. We expect more and more people to participate in the activity to win the most prizes. "The salesman says.
The company will announce the names of the winners at https://www.facebook.com/fecbekofficial before Feb.14th, 2015. For more information, please visit http://www.fecbek.com/.
About Feckbek.com
Feecbek.com is a leading online retail and wholesale store specializing in selling clothing, shoes, bags, wedding and occasion dresses, cosplay, costumes and beauty products. With a wide selection of products at a low price, the company has been universally recognized for honesty, high efficiency and thoughtful services; it has built a long-term relationship with many customers.