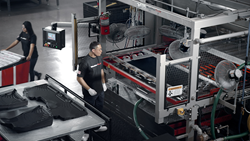 "Our Super Bowl ad for this year's game reinforces our commitment to manufacturing in America," said David MacNeil, WeatherTech founder and CEO.
Bolingbrook, Illinois (PRWEB) January 20, 2015
Automotive floor mat manufacturer WeatherTech will advertise its America at Work commercial during the first half of NBC's Super Bowl XLIX broadcast from the University of Phoenix Stadium in Arizona, Feb. 1.
WeatherTech is returning to the Super Bowl broadcast for the second time. Last year's You Can't Do That spot garnered praise for creativity, while extolling the company's Made in America business philosophy. This year's spot reinforces the Made in America theme with all WeatherTech employees as talent and a local production team.
"We had a very positive result from our first Super Bowl commercial during last year's game," David MacNeil, founder and CEO of WeatherTech said. "We witnessed an increase in phone and Internet traffic that helped continue our double digit sales growth as well as expand brand recognition. The Super Bowl ad buy has become a key component of our marketing strategy. It is a great opportunity to reach over 112 million viewers that are particularly focused on watching the commercials during the game."
The America at Work spot is very much a Chicago area production.
"Last year we had a big Hollywood production and actually filmed two spots," MacNeil said. "We were able to reinforce our Made in America manufacturing philosophy and we are doing that again this year. Our ad for this year's game reinforces our commitment to manufacturing in America. The ad features actual WeatherTech employees and my Golden Retriever Scout. The creative development was a group effort between our in-house marketing group and our agency Pinnacle Advertising, with additional support from Radar Studios. We wanted to keep the production dollars in our local economy. Although it does show a cute Golden Retriever we are taking a more retail approach this year. The ad cost over $4 million dollars and I have to sell product to pay for it – pretty simple."
The spot is scheduled to run within the first half of the game. The ad can be viewed and downloaded at http://vimeopro.com/weathertech/wt-super-bowl-tv-spots password: wt2015
WeatherTech automotive accessories can be ordered online at http://www.WeatherTech.com, by calling 1-800-CAR-MATS (1-800-441-6287) or by visiting the WeatherTech Retail Store at 1 MacNeil Court, Bolingbrook, Illinois 60440.
WeatherTech®, FloorLiner® and DigitalFit® are registered trademarks of MacNeil Automotive Products Limited.
For additional information or questions, please contact Kyle Chura, kyle@kcapr.com or call (248) 821-0468.
WeatherTech®
WeatherTech® is headquartered in Bolingbrook, Illinois. WeatherTech® has long been recognized by the discerning automotive enthusiast as a supplier of accessories of unparalleled quality. In addition to the WeatherTech® brand, the company supplies products to many automobile manufacturers (OEM) as an original equipment supplier. More information can be viewed at WeatherTech.com.