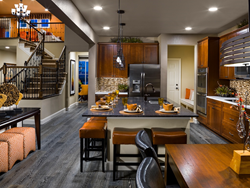 We love how excited everyone is to be a part of the event. We look forward to it all year.
Denver, Colorado (PRWEB) January 21, 2015
One lucky Denver-area REALTOR® will win a 2015 Mercedes-Benz during Taylor Morrison's Keys to Success Realtor Gala at Leyden Ranch on January 29.
During the event, real estate agents will tour new homes at Leyden Ranch and learn how to become eligible to win a Mercedes-Benz next year. To be eligible for the drawing, an agent must sell a Taylor Morrison home in the previous calendar year.
Leyden Ranch is located at 16209 West 84th Drive in Arvada on the north side of 82nd Ave. between Highway 93 and Indiana St. The event will begin at 5 p.m.
As this year's real estate agents compete to win the use of a 2015 Mercedes Benz, they will also have the opportunity to tour three new home collections now available from Taylor Morrison.
"We want our REALTOR® friends to have the ability to see first hand what Leyden Ranch has to offer," said Brian Cartwright, vice president of sales and marketing for Taylor Morrison's Denver division. "Plus, the surrounding community is the perfect backdrop to award this year's Keys to Success winner."
Previous winners include Denver real estate agents Merry Whyman and Deborah Oakes, who drove home brand new Mercedes Benz cars in 2013 and 2014, respectively.
Cartwright said the event is always the highlight of the year.
"We love how excited everyone is to be a part of the event," Cartwright said. "We look forward to it all year."
The anticipation and enjoyment this year is strengthened by the location of the event, held for the first time at the Denver homebuilder's Leyden Ranch community in Arvada.
"This gives our friends in the real estate business a chance to experience the gorgeous homes we're building at Leyden Ranch," Cartwright said. "It's a truly beautiful community."
Set against the Front Range, Leyden Ranch offers hill-crested home sites and homes that reflect the builder's dynamic range of floor plans. Available home collections include the Cedar Collection, the Hawthorn Collection and the Roaring Fork Collection, offering 14 distinct floor plans to meet the needs of Colorado homebuyers. Ranging in size from approximately 2,182 to more than 3,800 square feet, the homes include single and two-story options and up to five bedrooms, four baths and optional finished basements.
Arvada offers unique amenities including historic downtown, diverse shopping and dining experiences, and will include one of three area transit stops to Union Station as part of FasTracks' Gold Line currently under development.
To RSVP for the "Keys to Success" event, please contact Valerie Varney at (303) 325-2439 or by email at VVarney(at)taylormorrison(dot)com by January 26. For more information about Leyden Ranch, visit http://www.liveatleydenranch.com.
About Taylor Morrison
Headquartered in Scottsdale, Arizona, Taylor Morrison Home Corporation operates in the U.S. under the Taylor Morrison and Darling Homes brands and in Canada under the Monarch brand. Taylor Morrison is a builder and developer of single-family detached and attached homes, serving a wide array of customers including first-time, move-up, luxury and 55+ or better. Taylor Morrison divisions operate in Arizona, California, Colorado, Florida and Texas. Darling Homes serves move-up and luxury homebuyers in Texas. Monarch, Canada's oldest homebuilder, builds homes for first-time and move-up buyers in Toronto and Ottawa as well as high rise condominiums in Toronto.
For more information about Taylor Morrison, Darling Homes or Monarch, please visit http://www.taylormorrison.com, http://www.darlinghomes.com and http://www.monarchgroup.net.