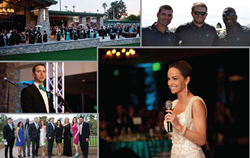 "We are thrilled about the support from our family, friends and community for these events," Nicole Cundiff.
Phoenix, AZ (PRWEB) January 21, 2015
Colleen's Dream Foundation announces its sponsors and celebrity guests for its 2015 Golf Tournament and Evening of Dreams Gala to benefit ovarian cancer research, in Phoenix, Arizona, on February 20-21, 2015, according to Nicole Cundiff, Co-Founder and Executive Director of Colleen's Dream Foundation.
"We could not be more excited for this year's golf tournament and Evening of Dreams Gala," says Nicole. "The response has been overwhelming! The gala sold out in less than two hours and nearly all of our sponsorships have been purchased."
According to Nicole, last year's combined events brought in many amazing local sponsors and raised over $100,000 that went directly to research with the primary emphasis of developing an early detection screening tool for ovarian cancer. With more than a month to go, the 2015 Golf Tournament and Gala already has more committed sponsors and is set to exceed this year's fundraising goals!
"The sponsor support this year is particularly humbling," Nicole states. Notably, the Evening of Dreams Gala will be presented by Fidelity National Title Agency. Other high level sponsors committed to date are Kendra Scott Jewelry, MJ Insurance Company, Renaud Cook Drury Mesaros, PA, and Valley Toyota Dealers Association. Colleen's Dream has also secured valued sponsorships with Craig Whitten of UBS, Copper Blues Rock Pub & Kitchen, Four Legged Friends Animal Hospital, Goldie's Motors, Jeff Seaman of CB Richard Ellis, Martori Farms, Peter Batschelet of Lee & Associates, Spirit Realty Capital, Tom Ross of Nova Home Loans, and Toyo Tires.
Nicole says that in addition to outstanding sponsor support, the NFL community will also be coming together to raise critically needed funds for ovarian cancer research.
In addition to Colleen's Dream's Co-founder and President, Billy Cundiff, an 11-year NFL veteran, the following current and former NFL players in attendance will be Bernard Pollard (Tennessee Titans), Jim Dray (Cleveland Browns), John Weeks (Houston Texans), Johnny Hekker (St. Louis Rams), Kyle Kosier (Retired, Dallas Cowboys), Lorenzo Alexander (Arizona Cardinals), Mat McBriar (San Diego Chargers), Michael Husted (Retired, Tampa Bay Buccaneers), Mike Brown (Retired, Chicago Bears), Mike Leach (Arizona Cardinals), Neil Rackers (Retired, Arizona Cardinals), Ryan Quigley (New York Jets), and Spencer Lanning (Cleveland Browns).
"We are excited for this year's events," says Billy. "The response has been incredible from the entire Phoenix community, as well as our NFL celebrity guests. We have put our hearts and souls into Colleen's Dream. It is so humbling and rewarding to see how many people as well as local and national corporations are willing to stand and fight ovarian cancer with us."
Go here for more event and sponsorship information.
Nicole Cundiff says the Gala is in honor of her mother, Colleen Drury, the inspiration for Colleen's Dream Foundation.
"These events will mark the two year anniversary of my mom's passing," she says. "This is not only a beautiful way to honor her life, but to also honor her dream of finding an early detection test for ovarian cancer so that other women will not suffer the same fate."
Nicole says having the event sell out in two hours reflects just how much people care about the issue of ovarian cancer, and also how deeply people cared about her mother.
"We are thrilled about the support from our family, friends and community for these events," she says. "And we are also touched that people from all over the country will be flying in to help us raise awareness and money for research."
Nicole says she is looking forward to this time of celebration and remembrance, with all those who will be attending.
Go here for more event information
EVENT INFORMATION:
Golf Tournament: February 20th
Arizona Biltmore Golf Club, Links Course
2400 E. Missouri Ave., Phoenix, Arizona 85016
11:00 a.m. - Registration and Lunch
12:15 p.m. - Shotgun Start
5:30: p.m. - Award Ceremony and BBQ Cookout
Attire: Golf
$250/Golfer
$1,000/Foursome
Evening of Dreams Gala Presented by Fidelity National Title Agency: February 21st (SOLD OUT)
Arizona Country Club
5668 E. Orange Blossom Lane, Phoenix, Arizona 85018
5:00 p.m.: Hosted Cocktail Hour and Silent Auction
6:30 p.m.: Dinner, Event Program Emceed by Teresa Strasser, and Live Auction
8:30 p.m.: Live Musical Entertainment by The JJs
Attire: Formal/Teal Tie Optional
$200/Person
$2,000/Table