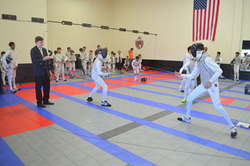 For youth fencers competing in the Y10, Y12, and Y14 categories, this camp is an ideal opportunity to prepare for the upcoming Regional Youth Circuit (RYC) and Super Youth Circuit (SYC) competitions
Campbell, CA (PRWEB) January 20, 2015
Directed by world-class AFM coaches Alexandr Maximovich and Natasha Maximovich, Ph.D., the Academy of Fencing Masters intensive fencing camp during the Presidents' week school break is designed to address the specific needs of fencers in the middle of the competitive season.
Fencing camps provide an ideal opportunity for fencers to significantly improve their physical conditioning, fencing techniques, and understanding of fencing bouting. When athletes immerse themselves into this five-week intensive whole-day training according to a carefully structured program, the experience they gain during this training is tremendous.
AFM coaches utilized their knowledge and experience from conducting fencing camps for the Russian national team to create a program that puts campers into a completely different zone. Participants will be challenged to rethink their game and approach to the bout, will become stronger and faster, and will improve their fencing stamina and boost their overall fencing skills.
For youth fencers competing in the Y10, Y12, and Y14 categories, this camp is an ideal opportunity to prepare for the upcoming Regional Youth Circuit (RYC) and Super Youth Circuit (SYC) competitions, particularly in Region 4 that follows right after the camp, as they will reach their peak performance heading into this tournament. This camp is the ideal intensive training opportunity for competitive fencers to help them prepare for local, regional, and national competitions. The supportive environment provides a great way for all intermediate youth fencers to improve their foil or epee skills, conditioning, and understanding of tactics and strategy.
This camp is the second one-week camp planned by AFM during the school year. The first one was held in December 2014 during the winter break, and was a great success attended by 20 fencers. AFM plans to host another camp during the Easter Break (April 6-10, 2015). Spread through the year, these camps are the ideal opportunity for fencers to leverage their school breaks to experience a completely different level of training from what they can experience while school is in session, as they are able to train day after day and make significant improvements with consistent training.
Coaches will work with each participant to improve their fencing skills and provide individual constructive feedback on technique and on-strip strategies to help athletes to adjust their game during fencing bouts. Each athlete will be challenged to think critically and develop approaches and methods to improve their fencing performance and empower themselves in their own training moving forward after the camp. As such, this camp not only betters the fencer during the training, but also will continue to show improvement in the following weeks.
The camp starts on Monday February 16 and runs through Friday February 20, 2015. The camp training hours are 9 a.m. till 4 p.m. The cost of the camp is $495.
AFM Presidents' Week Fencing Camp is open to AFM members and non-members alike from 8-17 years old.
For further information and registration, visit https://askfred.net/Clinics/moreInfo.php?clinic_id=28586.