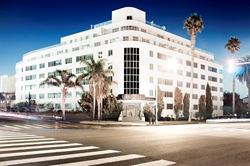 At Hotel Shangri-la, everyone can celebrate in extraordinary style with anything but ordinary choices for a special evening that suits your taste perfectly.
Santa Monica, CA (PRWEB) January 20, 2015
This Valentine's Day, there's something for everyone with Hotel Shangri-la's 'As You Like It' specials that cater to romantics, groups of friends and families. Everyone can celebrate in extraordinary style with anything but ordinary choices for a special evening that suits your taste perfectly.
Valentine's Evening Dining - $95* per person
For an intimate rendezvous, or a fun night out with good friends, Valentine's Day dining at Hotel Shangri-la's ocean front Dining Room is a popular choice.
The Valentine's menu includes a relaxing evening with a sumptuous four-course prix fixe dinner impeccably prepared by Chef Kareem Shaw. Start with an appetizer of butter nut squash ravioli, choose a beet or Caesar salad, enjoy the main course of Alaskan halibut and prime beef tenderloin, and then top it off with a decadent dessert of strawberry short cake and chocolate mousse that is served with frosted flowers. To complement the menu, our attentive waiters can recommend the perfect wine pairings to enhance the meal. Dinner is served from 5 to 11 pm.

Top of the World at Suite 700
On top of the world, Hotel Shangri-la's Penthouse Suite 700 is Santa Monica's only in/outdoor rooftop bar and lounge and the most popular spot in the city to gather. Suite 700 serves up magnificent views of the Pacific Ocean at sunset, special Valentine's cocktails, and a wide array of delicious small plates that are perfect for sharing.
Golden Bubbles Overnight Stay
Back by popular demand, Hotel Shangri-la is offering a Golden Bubbles 'As You Like It' option. Start with an overnight stay in a beautifully appointed deluxe ocean view room, then add from a variety of additional amenities according to your budget to create their own special experience, including in room private dining, a bottle of champagne, renewal massage, visit to the Jacuzzi or a bubble bath. Visit the website at http://www.shangrila-hotel.com to select from a variety of accommodations designed to suit just about every taste and budget to create a personal escape.
Reservations for dinner and accommodations can be made by calling (310) 394-2791. All reservations require a credit card guarantee and extra room nights are available pending availability.
About Hotel Shangri-la
The urbane Hotel Shangri-la at the Ocean in Santa Monica is anything but ordinary. Overlooking the Pacific since 1939, the hotel is a striking beacon of Art Deco elegance, a chronicle of the golden era of Hollywood and a quintessential nexus of culture. Hidden away on a high Santa Monica bluff overlooking the ocean and historic Santa Monica Pier, this timeless luxury boutique hotel promises guests their own personal Shangrila. Guests enjoy brilliant views of the Pacific Ocean, a celebrated history and a cultural connection during their stay. In the U.S., for toll-free room reservations only, please call (800) 345-STAY (7829) or for more information, visit http://www.Shangrila-Hotel.com.