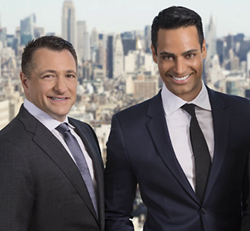 New York, NY (PRWEB) January 27, 2015
Centers for Special Surgery of Essex County, a multi-specialty Ambulatory Care Center (ASC) has obtained all New Jersey State regulatory approvals and has also received accreditation from the American Association of Accreditation for Ambulatory Surgical Facilities (AAAASF). "Surgeries commenced on December 3, 2014," says Dr. Adam Tonis, Chief Operating Officer.
"We are proud to offer patients a safe, efficient, warm and cost-effective alternative for their outpatient surgical needs," says David A. Greuner, MD, founding partner and cardiovascular surgeon at Centers for Special Surgery. "Patient outcomes are tracked and reported and no expense is spared to maintain our track record of ZERO post operative infections to date, at ALL of our facilities."
"Centers For Special Surgery integrates the latest advances in surgical technology in a setting that optimizes clinical processes and the patient experience," says Dr. Tonis. "Our state of the art operating facilities are fully accredited and undergo the strictest protocols designed to surpass that of even the most strict qualifications. By meeting these standards, we are able to streamline the process of patient care from beginning to end. What this means is that from the moment a patient walks in to one of our centers, each one of our highly qualified staff members has one goal only on their mind; providing the most cutting edge, safe, and comfortable experience for the patient's surgical procedure possible."
The Center is equipped for Bariatric, Vascular, Gastroenterology, General Surgery, Urology, Pain Management, Orthopedic Surgery, Oral and Podiatry.
Dr. Adam Tonis is the Chief Operating Officer for Centers for Special Surgery. He has over 20 years' experience in running medical and surgical facilities in the Tri-State area and has initiated and scaled medical facilities from their inception to the point of expansion and administrative automation.
Currently, Dr. Tonis is responsible for all administrative and non-clinical teams and workflow at Centers for Special Surgery. As the leadership behind our talented administrative staff, he consistently strives to perfect efficiency and minimize problems regarding administrative and insurance issues for our patients as well as training the next level of management to assure our surgical outcomes are ideal and patient satisfaction is perfect.
Dr. David Greuner is Chief Medical Officer at Centers for Special Surgery. He is a double board certified surgeon with over 10 years of surgical experience. Aside from a thriving clinical practice, Dr. Greuner has long been involved in the administrative workflow of medicine and is very passionate about improving clinical parameters in all aspects of surgical practice.
He is expert at creating and implementing clinical programs from inception to growth positions. In addition, Dr. Greuner supervises all procedural workflow, compliance, and clinical protocols to ensure the utmost safety, optimal outcomes and cost effective care.
For more information on Centers for Special Surgery of Essex County, please call 888-286-6600 and visit http://www.centersforspecialsurgery.com