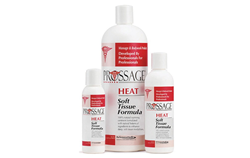 Prossage® Heat is perfect for targeted, controlled deep tissue therapy
Chicago, IL (PRWEB) January 20, 2015
Formulated for deep tissue work, myofascial release and trigger point therapy, Prossage® Heat is now a part of the vast selection of massage products available from BestMassage.com's massage table warehouse. Prossage® Heat is a natural warming ointment formulated with botanical ingredients to enhance deep, soft tissue modalities.
"With the therapeutic use of heat therapy, it's important to continue expanding our massage product offerings to include innovative thermotherapy massage supplies like Prossage® Heat" says Peter Wang, Marketing Director of BestMassage.com. "Prossage® Heat is perfect for targeted, controlled deep tissue therapy. We're excited to have this amazing massage product, and it's just another way we try to connect our customers with the best massage tools."
Prossage® Heat is available in a variety of sizes (3 oz., 8 oz. and 32 oz.). Its viscosity and controlled glide enable providers to feel fascial restrictions and effectively release them, restoring tissue to its normal resting length, without sliding off the targeted area or causing discomfort. The thermal effect warms the area to encourage blood flow, resulting in a deeper, quicker, more efficient therapy.
"Thermotherapy is also very popular in sports massage and physical therapy" adds Wang. "Heat can be applied in a variety of ways to improve effectiveness and ultimately healing. Prossage® Heat is an advanced, natural and simple option to increase the benefits of massage."
Prossage® Heat can be found at BestMassage.com in the "Hot and Cold Therapy" massage product category.
About BestMassage.com
BestMassage.com is proud to be a BBB (Better Business Bureau) accredited organization with a BBB Rating of A+. Having over 14 years of experience and knowledge behind us, we are committed to offering massage therapists and those who care about health and well-being a complete line of high-quality massage tables and supplies at the best prices possible with exceptional, friendly service, and fast shipment. Detailed information on the company can be obtained by visiting http://www.bestmassage.com/