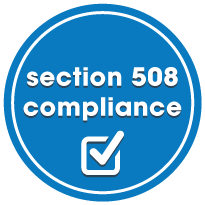 SIMpalm has achieved 508 compliance standards in building mobiles apps on iOS, Android, HTML5, and windows Phone.
Maryland, USA (PRWEB) January 20, 2015
SIMpalm, a leading mobile application development company, has achieved 508 compliance standards in building mobiles apps on iOS, Android, HTML5, and Windows Phone. 508 compliance requires that Federal Government's IT systems are accessible for people with disabilities. The compliance is covered under 508 Section Law, which was passed by Congress in 1999. This compliance applies to all IT Products, Facilities and Services including Software Applications, Operating Systems, Web Based Systems, Telecommunication Products, Video/Multimedia Products, Closed Products, Desktop Computers and Portable Computers.
SIMpalm followed a unique set of steps to carry out this certification specified by the Federal Department. First SIMpalm completed 508 Micro Purchase training with Defense Acquisition University (DAU). After successfully completing this training, SIMpalm went through 508 Universe Training program offered by GSA. The whole training program took 3 months in order to meet the goal.
SIMpalm also built a mobile health application for a major federal agency on iPhone and Android. This application was supposed to work for visually impaired users. SIMpalm followed all the 508 guidelines to do the design, coding and testing of the application. Talkback features were integrated successfully in the app. Apps were finally approved by an advanced 508 consultant and uploaded to the agency's internal app store.
SIMpalm wishes to use its ability to build several 508 compliant software for Federal Agencies, Prime Contractor and Subcontractors.
About SIMpalm
SIMpalm established in 2009 to bring more mobility in the world. SIMpalm design, develop and deploy mobile applications and responsive web for its clients. SIMpalm provided end to end services for mobile app/web including design, development, testing and deployment. It has highly skilled iPhone App Developers, iPad App Developers, HTML5 developers, Android app developers for hire to build mobile apps for any industry vertical. It also builds cloud based backend for mobile apps on Parse, Amazon AWS, LAMP and Windows Azure. Not only native apps, it builds app and web using cross-platform technologies like HTML5, Sencha Touch, Jquery, Titanium, Xamarin, Angular JS, Backbone JS and A `ppprecessor, also develop solutions for Startups, SMEs, Enterprises and Government organization. Some of its major clients include Flextronics USA, Forte Payment Systems, Bed Bath and Beyond, Blue Cross Blue Shield and Cantada.