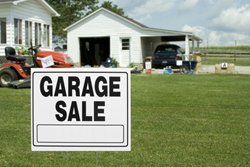 hold a garage sale that will help earn extra money for new decorations
Chicago, IL (PRWEB) January 20, 2015
The Federal Savings Bank, a Midwest based lender, knows that when people find themselves moving into a new place, they may think it's fine to pack later and wait until the last minute. However, this could result in a disorganized moving process and having to deal with piles of stuff left still outside their boxes.
To make moving smoother, consider looking at all the items in the house and determine how to reduce the number of these belongings ahead of time. Not only does this mean less stuff to pack, but it also leaves more room in the new house to fill with new decor and furniture.
The Federal Savings Bank offers of the following tips on how to organize or throw away clutter
Organize like items together
Before packing things into boxes, it helps to group similar items or objects that go in the same room to make unpacking easier. Movers can take the same approach when deciding what items should stay or go. Go through each room and look at the list of items found in every one. For example, if they plan on packing for their new kitchens, they can look for sets of plates, utensils and cookware to pack together.
Eliminate duplicates
When people find themselves going through their items again, they will likely find they have two or more of the same thing but need only one. They could choose to pack one of these and sell or donate the rest.
Find replacements
To reduce the amount of things to pack, movers can ask themselves whether something is replaceable, such as books or movies, according to Apartment Therapy. If it is replaceable, then they can save space in the moving truck or shipping container by eventually buying a new one.
Donate, sell, or throw away
Take stock of what items are used every day and which ones tend to collect dust. Discard these unused items by creating piles for donating, selling or throwing away belongings:
Items that are in good condition can easily be donated to a charity or given away to a friend or family member nearby.
In plenty of time before the moving day, hold a garage sale that will help earn extra money for new decorations.
The last option is to simply throw items away. Depending on the rules for disposing of large items like furniture, people may need to pay a charge for sanitation services to haul trash away.
Before first-time home buyers consider moving, they could contact The Federal Savings Bank, a veteran owned bank, to learn more about mortgages.