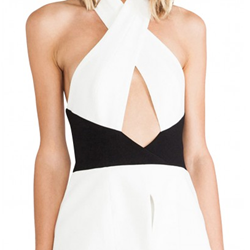 Lingerie is the necessary item for lovers to share a romantic evening together.
(PRWEB) January 23, 2015
Valentine's Day is a festival which is popular for lovers all over the world. To celebrate the special festival, Fecbek.com, the online fashion retailer, unveils its latest lookbook, a collection of lingerie for lovers. Like all of Fecbek's clothing, the affordable prices are accessible to women on any budget. The big discount on this collection is up to 50% off. Besides, anyone who places an order on Fecbek.com from 12th, Jan.2015 to 14th, Feb.2015 will have the chance to win the order for free.
Lingerie is the necessary item for lovers to share a romantic evening together. The items in the collection are suitable for lovers to spend a romantic night. Different from shoes, dresses and bags, Lingerie is a way of flirtation with the most complete display of enchantment and sex appeal. It will give each a big surprise on the special night.
The new arrivals at Fecbek are characterized by fashion, enthusiasm, ebullience and functionality. All the items can satisfy women's need of accentuating the slim line. They give lift to the feminine charms. What designers want to express is the love for the special lovers who pursue perfect sexiness and the sense of mystery.
Fecbek offers different styles of bustier, pajamas, teddies and bra sets. Fecbek has a keen eye for detail .Designers work thoroughly, producing the most wearable lingerie in the most beautiful fabrics. For example, a sexy bra with elements of the empire line, the wrinkle and the embroidering show a unique feeling of sexy. Besides, the design of drawstring which is easy to unhook makes one look charming on the special night. Butterfly buttons and frilled decorations are the cynosure of his eyes. The silk pajamas are the combination of the fashion style and the classical style. The hot body appears indistinctly with the translucent black. He will not resist the seduction of a flawless complexion under the voile.To find out more, please visit http://www.fecbek.com.
About Feckbek.com
Feecbek.com is a leading online retail and wholesale store specializing in selling clothing, shoes, bags, wedding and occasion dresses, cosplay, costumes and beauty products. With a wide selection of products at a low price, the company has been universally recognized for honesty, high efficiency and thoughtful services; it has built a long-term relationship with many customers.