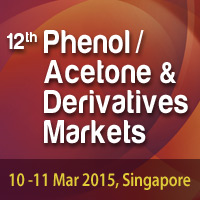 12th Phenol/Acetone & Derivatives Markets event sets out to discover – where is the silver lining with impending over-capacity?
Singapore (PRWEB) February 03, 2015
CMT's 12th Phenol/Acetone & Derivatives Markets event promises to be an excellent platform for a holistic overview of the current industry trends and developments in Asia as well as globally. Among the key presenters is Masaaki Higashi, Managing Director of Mitsui Phenols Singapore Pte Ltd, who will be addressing the 'Global Phenol/Acetone Market Outlook & Forecast,' touching on the supply/demand balance in next 3-5 years, new production capacities in Asia & its implication on global trade flow and more. A session on 'Global Crude Oil Market Outlook' will be delivered by Satoshi Hagimoto from RIM Intelligence Co's Asia Oil Product Team, while Leslie Tang, Senior FX Analyst, Global Markets, Maybank will share his views on 'Regional Economic Outlook,' covering growth prospects for China in the short term and performance of the forex market with US monetary tightening Policy.
Meanwhile, the derivatives market updates & feedstock sessions will be covered in the sessions below:

Polycarbonate Demand, Development & Market Dynamics – Jens Kaatze, Senior Vice President Global Product Management, Polycarbonate Business Unit, Bayer MaterialScience (Shanghai) Management Co., Ltd.
Epoxy Resin Market Outlook & Applications – Neil Chueh Ho Ming, General Manager, Nan Ya Electronic Materials (Kunshan) Corp., Ltd
Global Propylene Market Overview & Trade Flow – Wonsoo Byun, Senior Consultant, Energy & Chemicals Consulting Asia, Nexant Singapore
Global Benzene Market Outlook – Darryl Xu, Research Analyst, Wood Mackenzie
Phenolic Resin Market Outlook – Figo Gao Xiaofei, Deputy General Manager, Shandong Shengquan New Materials Co, Ltd.
Besides the above, Eko Rudianto, Advisor to Board of Directors of PT. Toyota-Astra Motor will shed light on the 'Engineering Plastics Applications in Automotive Industry,' outlining the production & consumption trends/emerging trends in interior & exterior applications/materials, substitution trends and more. In his session on 'No Location Limitation Epoch-Making DPC Process for Polycarbonate,' Dr. Nobuhisa Miyake, Senior Researcher, Chemistry & Chemical Process Laboratory, Asahi Kasei Chemicals Corporation will provide an overview of the new DPC (diphenyl carbonate) process and insights on the future development & application to polycarbonate production. Also, Randy Velarde, President of The Plaza Group will discuss the Acetone market in USA.
View the 12th Phenol/Acetone & Derivatives Markets website or contact Ms. Grace OH at +65 6346 9147 for more details.