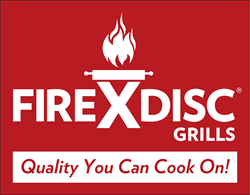 Our grills allow you to cook food evenly and give you the best grilling experience possible
Katy, Texas (PRWEB) January 28, 2015
FireDisc Grills, specializing in making the most versatile outdoor grill, will be exhibiting at HPBExpo, the largest indoor-outdoor products showcase.
Visit FireDisc Grills at the HPBExpo, to be held at the Music City Center in Nashville, TN on March 4-7th, 2015. HPBExpo is North America's largest indoor-outdoor living showcase, where more than 350 leading hearth, patio and barbecue manufacturers and suppliers exhibit and demonstrate their newest innovations, attracting thousands of specialty and mass market retailers and other professionals.
FireDisc Grills will exhibit at Booth #3002 and will have on display small and large FireDisc products, covers, hoses, adapters, swag and parts and accessories. The products are designed in the USA from non-corrosive carbon steel, are available in two colors, and are guaranteed to last a lifetime.
The FireDisc premium gas grills are hand inspected and made only of the finest quality of carbon steel. Mechanically designed, each grill is designed with ease of use and portability in mind. Each of these gas grills are manufactured with a powder-coat at 450 degrees, which affords unique protection against the elements and will neither rust, break, dent, nor bend.
Discover a world of versatility, flavor, and easy maintenance with both the full-size and the mini models at the expo. With each of these hand created grills manufactured to exacting specifications, the FireDisc grill has no screws, nuts, or bolts to worry about loosening and getting lost.
Whether planning a summer barbecue, camping for the weekend, or tailgating at the football game on a Sunday afternoon, the rough and tumble FireDisc is ready to grill. Customers can shop for grills & grill accessories online as well.
About FireDisc Grills:
FireDisc Grills, based in Katy, Texas specializes in making the most versatile outdoor grill on the market today. The company was founded by two brothers who set out to build a grill that would cook restaurant quality food, would be portable, and tough enough to take camping, tailgating, or survive years in the backyard. FireDisc Grills are handcrafted, are virtually indestructible and perform to the highest standards set out by the founders of the company. With its heavy-duty carbon steel construction, FireDisc premium gas grills deliver rugged durability, portability, ease of use, and superior grilling characteristics. For more information visit http://www.firediscgrills.com.