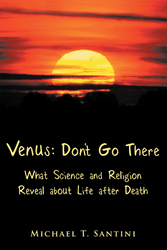 Since Jesus Himself authors the original doctrine of hell, it should not be considered imaginary in any sense
SAN FRANCISCO (PRWEB) January 22, 2015
Heaven, hell and Hades are real places, and one of them is closer than people might think.
In the culmination of years of research, the Rev. Dr. Michael T. Santini has pinpointed Venus as the prime candidate for where unsaved people go after the Day of Judgment. He shares his findings in Venus: Don't Go There, a theologically sound and scientifically accurate account.
"Since Jesus Himself authors the original doctrine of hell, it should not be considered imaginary in any sense. Hell is a place to be feared and avoided at all costs," Dr. Santini said.
Dr. Santini spent two and a half decades as an aerospace engineer, working on satellites for government space programs, before becoming a licensed pastor and founding Planet Earth Ministries.
"My interest in space and astronomy goes as far back as my teenage years," Dr. Santini said. "Later, my seminary education facilitated the formulation of theology that incorporates science and the natural world."
While science and religion are often seen as in conflict with one another, Dr. Santini shows biblical faith and physical science work together to reveal a higher truth concerning what to expect in the end times.
For more information, visit http://www.planetearthministries.com.
Venus: Don't Go There
By Michael Santini
ISBN: 978-1-49174-699-8
Available in softcover, e-book
Available on Amazon, Barnes & Noble and iUniverse
About the author
Michael Santini began his career by obtaining a Profession Engineering license and spending 25 years as an aerospace engineer on government space programs. With a subsequent MA in Biblical Studies from Fuller Theological Seminary and his Doctor of Ministry from San Francisco Theological Seminary, he is currently senior pastor and founder of Planet Earth Ministries. He is also an author and a keynote speaker.
For review copies or interview requests, contact:
Jaymie Shook
317.602.7137
jshook(at)bohlsengroup(dot)com