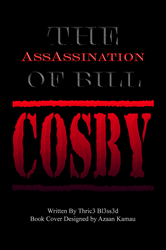 If You Say Nothing and You Do Nothing You Are "THEM'
Las Vegas NV (PRWEB) January 22, 2015
Thrice Blessed's new Book "The AssAssination of Bill Cosby" is now available on http://www.amazon.com.
Thrice Blessed gives all an opportunity for a good hard look. The author looks into several alternative scenarios. The author invites the reader to take a chance to consider possibilities that they may never have considered. Thrice Blessed offers a call to action by saying, "Don't complain about this world if you're not willing to do something to make it better."
Thrice Blessed is a product of the Civil Rights Era. He lived in Birmingham, Alabama, during the bombing of the 16th Street Baptist Church and indicates that the experience "would shape who I would become for the rest of my life."
Thrice Blessed, while covering a difficult topic, keeps hope for a better world by encouraging readers to find their truth. He states, "Truth knows no color." He gives hope that a better world will be the result. He reveals how difficult it has been personally dealing with the events surrounding Dr. Cosby. He expresses how the book was born from personal pain. He states, "A pain too deep to feel…ripping to the core the essence of my being."
Thrice Blessed reveals that he feels the media has overstepped its boundary, stating, "The Media is now our Judge, Jury and Executioner." He reflects how unfair that reality is to everyone. The author offers an opportunity to consider other options and clearly states that the book is "Just my opinion."
The AssAssination of Bill Cosby is now available:
http://www.amazon.com/AssAssination-Bill-Cosby-Thric3-B13ss3d-ebook/dp/B00SFYXR7Q/ref=sr_1_1?ie=UTF8&qid=1421804144&sr=8-1&keywords=The+AssAssination+of+Bill+Cosby?