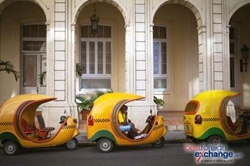 Landscapes, wildlife, sunny beaches, and salsa are the rewarding experiences of Latin American holidays and Hawaiian Cigars has now joined the club
London, UK (PRWEB UK) 23 January 2015
As economic sanctions on Cuba were eased by the United States and more sanctions to be lifted soon, hospitalitynet quoting trivago.co.uk on 7th January reported a strong interest among tourists to visit Cuba with online inquiries increased by 42%. Hospitilitynet further states that many visitors are keen to visit before the country undergoes a change.
"Latin America is a wonderful place to visit in January – February, the time of the year when the weather is mild and the peak season for many South American destinations. It is encouraging to see Cuba joining the travel market," said Trevor Samuel, Senior Manager at Thomas Exchange Global.
Mexico, Peru, Colombia, Guatemala, Chile, and Costa Rica are the most popular South American travel destinations this season. As such, Thomas Exchange Global offers the most competitive exchange rates for Peso, Colones, Quetzal, and US Dollars. Sufficient stocks of most currencies are available at their branches to be purchased without prior ordering.
"Landscapes, wildlife, sunny beaches, and salsa are the rewarding experiences of Latin American holidays and Hawaiian Cigars has now joined the club," concluded Samuel.
About Thomas Exchange Global
As dedicated foreign exchange specialists, Thomas Exchange Global has the professional expertise, in depth market knowledge, technological infrastructure and commitment to provide an unprecedented level of service that sets the standard in the foreign exchange industry. They are specialists in all areas of foreign exchange. They provide commission free currency as well as travellers cheques.
Thomas Exchange Global also offers International Money Transfer Service where funds can be remitted to overseas bank accounts within 1 to 2 days. With commission free service for transfers over £10,000 backed by competitive exchange rates, customers are assured of a better deal and a substantial saving compared to banks and money brokers.
Thomas Exchange Global branches are located at Strand, Victoria Street, Liverpool Street, Hammersmith, Cannon Street, Wormwood Street and Richmond.
For further details visit http://www.thomasexchangeglobal.co.uk or call 020 7240 1214