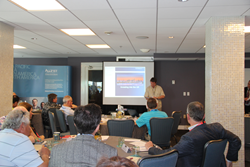 The high participation of North American members, combined with a large number of international delegates gave an international twist to this regional conference. The value of sharing insights from across the globe is extremely valuable to the group
Miami, Florida (PRWEB UK) 20 January 2015
Alliott Group kick-started 2015 with the annual North America leadership Forum which was hosted in Miami USA
In total there were 44 delegates including international members with Spain, England, Germany, Luxembourg, Argentina and the Netherlands in attendance. This led to a truly richer experience enabling members to really grasp the importance and diversity of the group plus all the potential it can bring to their own firm and clients.
Each of the visiting nations presented a guide on 'Doing Cross-Border Business, in their country'
The conference included the renowned speaker Jennifer Wilson from Convergence Coaching who presented the dynamic technical training day on the topic of 'Learning to be an Inspiring, Accountable and Difference Making Leader'. The session explored important leadership and communication must haves to further develop and enhance firms' performance.
"The high participation of North American members, combined with a large number of international delegates gave an international twist to this regional conference. The value of sharing insights from across the globe is extremely valuable to the group" – John Kleopas World Wide Chairman.