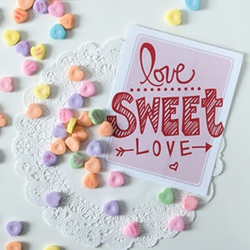 Obviously, there's a safety element to candle labels, and Lightning Labels is well aware of that.
Denver, CO (PRWEB) January 21, 2015
Sometimes, the best gift is relaxation, and romantic bath and beauty labels can help ensure that love-struck consumers choose products to achieve tranquility. Making people feel pampered is the name of the game for bath and beauty vendors. The first step toward accomplishing this is decking out products with labels that get across exactly how special of an experience it will be to use the items.
Design plays a crucial role in this regard, as does the information you choose to include. Beyond those two aspects, a professional appearance is extremely important - and Lightning Labels, a custom label and sticker printing company, is here to make sure your bath and beauty products look great. Thanks to our high-resolution digital printing technology, you can rest assured that your labels will be crisp, clear and vibrant. Not only that, but they'll be able to withstand exposure to water and oils.
Set the Mood with Candle Labels
A gently flickering candle can be the perfect accompaniment to a relaxing bath or intimate dinner, and your candle labels should inspire consumers to imagine scenarios like these. Lightning Labels prints a huge number of custom candle labels, so you can trust us to deliver flame-resistant stickers that hold up to heat and still look good.
"Obviously, there's a safety element to candle labels, and Lightning Labels is well aware of that," said Scott Proctor, vice president of sales at Lightning Labels. "Our candle stickers not only look good, but they're safe, too."
Use Custom Labels to Expand Your Valentine's Gift Offerings
Not sure how to present your products as the perfect presents for your shoppers' sweethearts? Custom labels can help tie everything together. Don't just stick to bath and beauty items or candles - revamp the labels on your candy and wine products too!
Lightning Labels offers turnaround times of 48 to 72 hours, doesn't charge set-up fees and provides the option for customers to get free printed press proofs ahead of putting in a bulk order. Feb. 14 is just a few weeks away, so let us help prepare your products for the big day.
About Lightning Labels:
Lightning Labels uses state-of-the-art printing technology to provide affordable, full-color custom labels and custom stickers of all shapes and sizes. From small orders for individuals to the bulk needs of big businesses, Lightning Labels is equipped to handle and fulfill custom label and sticker projects of all types. Best of all, like the name implies, Lightning Labels provides a quick turnaround for every customer's labeling needs. Uses for Lightning Labels' custom product labels and custom stickers include food packaging and organic food labels, wine and beverage labels, bath and body labels, and nutraceutical products, such as vitamins, essentials oils, and herbal remedies, as well as event stickers, adhesive window stickers and more. Lightning Labels strongly supports the development of environmentally friendly printing materials and carries EarthFirst PLA, a new kind of green label material made from corn instead of petroleum. While operating as a high-tech printer, Lighting Labels prides itself on its personalized customer service. Lightning Labels provides one stop shopping for all of your custom label needs. For more information and to place orders online, visit LightningLabels.com. For the latest in packaging news and labeling promotional offers, find Lightning Labels on Twitter (@LightningLabels), Facebook, Pinterest, Google and LinkedIn.