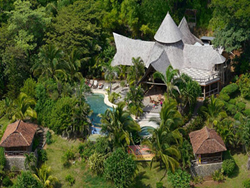 New York, NY (PRWEB) January 21, 2015
Drishti Yoga Teacher Training today announced that Kurt Reichenberger, owner of El Sabanero Eco Lodge near Tamarindo, Costa Rica has built a brand new yoga shala for their upcoming yoga teacher training in March 2015.
For the second year in a row Drishti Yoga Teacher Training announces their Yoga Teacher Training in Costa Rica will be held at El Sabanero Eco-Lodge in the jungle near the beaches Tamarindo.
"This year the owner of the lodge has graciously built a brand new open-air yoga deck with sweeping views of the mountains and surrounding valleys" Explains Co-Founder Sarah Walsh. "We can't wait to practice in harmony with nature in one of the greenest countries on the planet!" she exclaims.
"The new yoga shala will only compliment the lush gardens and the sparkling pool" says Co-Founder Carri Uranga "having this view and the fresh mountain breeze while perched on a hillside practicing yoga will inspire your practice to the next level."
The Drishti Yoga Teacher Training in Costa Rica 2015 will be held near Tamarindo, home of multiple beaches, ideal waves and surf legend Robert August. On days off students can take advantage surf lessons, zip lining, massage or simply lounge by the pool.
About Drishti Yoga Teacher Training
Discover the impact of intimate personal attention combined with focused training in exotic locations with Drishti Yoga Teacher Training. Combine your passion for Yoga and your love of travel to create a transformative experience on and off the mat.
Upcoming trainings will be held in Costa Rica from March 23rd- April 15th 2015 and Santorini, Greece from July 8th-August 1st 2015. For detailed information on these trainings and to find how else Drishti is making a ripple effect in the Global Yoga Community visit us at DrishtiYogaTeacherTraining.com