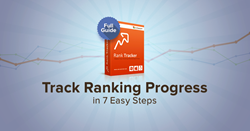 It's often the case that, once a user checks site ranking, they discover the site already ranks well for some of their keywords.
(PRWEB) January 20, 2015
Link-Assistant.Com, an SEO software house with decade-long history, has just added another page to its "SEO PowerSuite Workflow" guide - this time that dedicated to rank tracking.
The new chapter is a 7-step manual to effectively tracking SEO rankings on a daily basis. The steps are explained in regards to Link-Assistant.Com's rank monitoring tool, Rank Tracker.
The 7 steps described are:
1. Deciding on the search engines to target
For international businesses, choosing Google.com and Bing.com may be a good idea, while additional research may be required to determine the search engines for a country-specific business.
2. Choosing the landing pages that should rank
Rank Tracker allows users to associate a landing page with the keywords it should rank for. If the wrong page appears in search results for a keyword, the app will flag it in the ranking table.
3. Setting one's language and location
With Rank Tracker, it's possible to specify the language and the location of the rank check. The SEO tool also allows one to use proxies in order to get maximally accurate results for a location.
4. Opting in to Universal Search tracking
SEO PowerSuite's Rank Tracker will track ranking in search verticals (Universal Search) such as Images, Videos, News, and others.
5. Adding one's competitors
Link-Assistant.Com keyword tracker allows one to add up to 10 competitors and track their rankings side by side with the software user's dynamics.
6. Using Search Safety features
Rank Tracker is equipped with search safety features that help prevent IP blocks, CAPTCHAs and other nuisance.
7. Running a first rank check
Once a rank tracking campaign is set up, all that's left to do is to perform a rank check to see where a website currently stands in search engines.
"It's often the case that, once a user checks site ranking, they discover the site already ranks well for some of their keywords", say Erin Madison, User Experience manager at Link-Assistant.Com. "That's why we recommend running an initial check and registering the current state of affairs to track progress correctly in the future".
Full version of Link-Assistant.Com's rank tracking guide is available at http://www.link-assistant.com/seo-workflow/rank-tracking.html.
*Other Rank Tracker features*
Although rank monitoring is one of its prime features, Rank Tracker has other useful modules that make the SEO's job easier. The SEO app also includes:

17 keyword suggestion tools
The Keyword Difficulty module
The PPC and SEO keyword analysis chart
Google Analytics data (visits, bounce rates, etc.)
6 types of SEO reports, and others.
*About Link-Assistant.Com*
Link-Assistant.Com is an SEO software maker and the company behind SEO PowerSuite, a comprehensive set of tools that covers the entire SEO cycle. SEO PowerSuite is used by over 500,000 website optimizers worldwide and has won industry awards for being top-used and best-selling SEO software.