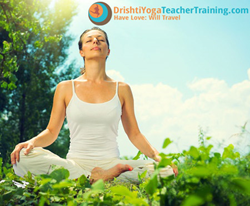 New York, NY (PRWEB) January 22, 2015
Due to popular demand and multiple requests from alumni students, Drishti Yoga Teacher Training announced they will begin to add yoga retreats to their already exciting schedule of trainings in exotic destinations.
The yoga retreats will last anywhere from 3-7 days and will commence this September over Labor Day weekend in Napa Valley. The retreat will combine yoga and wine tasting on a quaint ranch in the Mayacamas Mountains of Calistoga in Northern California.
After 10 years Co-Founder Sarah Walsh recently moved from New York City to San Francisco. "September is a beautiful time to visit Northern California," she explains "Not only is the sun shining bright, but it's also harvest season in Napa Valley. It will be a perfect time to spend 3 days doing yoga followed by sunset wine."
"We realize not everyone can take a month off for a yoga teacher training," says Co-Founder Carri Uranga "people have family and work obligations. The retreats are perfect for those who cannot commit to a full 24 day training, but still want a taste of what a Drishti Yoga Teacher Training may be like."
Drishti Yoga looks forward to continuing these shorter and more relaxing retreats in 2016.
About Drishti Yoga Teacher Training
Discover the impact of intimate personal attention combined with focused training in exotic locations with Drishti Yoga Teacher Training. Combine your passion for Yoga and your love of travel to create a transformative experience on and off the mat.
Upcoming trainings will be held in Thailand from February 5th- March 1st 2015 and Costa Rica from March 23rd- April 15th 2015 and from Greece from July 8th to August 1st 2015. For detailed information on these trainings and to find how else Drishti is making a ripple effect in the Global Yoga Community visit us at DrishtiYogaTeacherTraining.com