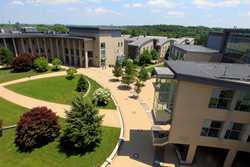 "We are delighted to see the record number of applications come in to our office. It is clear that students and their families recognize the value of an Olin education,"
Needham, Mass. (PRWEB) January 22, 2015
Olin College of Engineering drew its biggest applicant pool ever this year. A total of 1,072 students submitted applications, topping the previous record of 1,054 set in 2007. In addition, a record number of women applied. In the last four years, applications have increased 89 percent.
The applications came from 47 states –Mississippi, North Dakota and West Virginia were the exceptions. And 115 applications were received from students representing 36 countries around the world.
Included in the applicant pool are: three licensed pilots, a nationally ranked equestrian, a professional race car driver, several students holding patents or who have patents pending, a state gymnastics vault champion, and many accomplished musicians and dancers.
Selectivity will be rigorous for the Class of 2019 as Olin has 27 students returning from a Gap year, reducing the number of available spots in the Class of 2019 to 57.
"We are delighted to see the record number of applications come in to our office. It is clear that students and their families recognize the value of an Olin education," said Vice President and Dean of Admissions Charles Nolan. "Olin is increasingly seen as an institution where top students receive an innovative education geared to today's engineering challenges and experience outstanding career options."
The Olin Admissions office is busy reviewing applications. In a few weeks, about 180 candidates will be invited to attend one of three Candidates' Weekends.