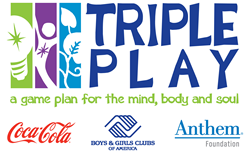 As we begin 2015, the Fit Family Challenge is a great opportunity to talk about the importance of fitness, wellness and how families can be healthy together.
Atlanta, GA (PRWEB) January 27, 2015
The Blair family from McGuire Air Force Base Boys & Girls Club in New Jersey was named Boys & Girls Clubs of America's (BGCA) most fit family to win the organization's 5th Annual Fit Family Challenge finale event in Miami. After competing for six weeks in the nationwide healthy-living challenge, the Blair family emerged victorious thanks to their shared commitment to healthy living through focusing on family time and making exercise and eating a balanced diet part of their daily routine.
BGCA's Triple Play Fit Family Challenge is supported nationally by The Coca-Cola Company and Anthem Foundation and encourages families around the country to be more physically active, make balanced and healthy nutrition choices, and spend more quality time together. The finale event in Miami was hosted by 1991 Heisman Trophy winner and Super Bowl XXXI MVP Desmond Howard and included four other finalist families from around the county. At the finale, families competed in a challenging obstacle course, nutrition game show and talent competition to win the Challenge.
"The Triple Play Fit Family Challenge offered our family the opportunity to focus on spending meaningful time together as a family while also making healthier choices," said Heather Blair, a member of the Blair family. "Living a healthy lifestyle is easier when we all encourage each other along the way. We're grateful to the Fit Family Challenge for helping us start this New Year healthy, happy and spending lots of quality time together to be fit!"
The Fit Family Challenge incorporates the principles of BGCA's Triple Play program. Hundreds of families entered the October 2014 competition, which focused on living healthy in mind, body and soul through healthy eating habits (mind), physical activity (body) and spending more time together as a family (soul). As the winner, the Blair family received an all-expense paid vacation to a U.S. Olympic Training Center for a healthy and active family getaway. All finalists received Triple Play-inspired Prize Packs that included items donated by The Coca-Cola Company and Anthem Foundation.
"It's amazing to see these extraordinary families each year during the Fit Family Challenge and this year is no exception," said Wayne B. Moss, BGCA's senior director of healthy lifestyles, program, training & youth development services. "Our Clubs, staff and Club members work every day to make healthy living a part of their daily lives. Seeing how this also helps empower families is inspiring as we work to continue this important focus on health and wellness for our kids."
"As we begin 2015, the Fit Family Challenge is a great opportunity to talk about the importance of fitness, wellness and how families can be healthy together," said Lance Chrisman, executive director of the Anthem Foundation. "We are very proud to support Triple Play and the great work Boys & Girls Clubs do to make the next generation healthier and empower families to do it together."
The other finalist families included: the Brodsky family from the Detroit Arsenal Boys & Girls Club; the Meyer Ohana family from the Boys & Girls Clubs of Hawaii; the Minick family from the Huntington County Boys & Girls Club in Indiana; and the Shomoforth family from Boys & Girls Clubs of North Lake Tahoe in California.
"This event is just one exciting and fun example of what's happening every day in Boys & Girls Clubs – where millions of young people are learning about and practicing balanced eating habits, physical activities and lifestyle behaviors that will help them live long and healthy lives," said Erika Von Heiland Strader, director of community marketing for The Coca-Cola Company. "The families that competed in the Challenge are all winners because they are committing to creating a healthy future. By making this commitment to health and wellness they are also impacting their local Club and community, so everyone wins."
BGCA offers all families a resource (in both English and Spanish) to help them get healthy as a family – the Triple Play Parents Game Plan. This at-home guide is available as a free download at http://www.bgca.org/tripleplay.
Triple Play: A Game Plan for the Mind, Body and Soul
A Game Plan for the Mind, Body and Soul was launched in 2005 by Boys & Girls Clubs of America (BGCA) in collaboration with the Department of Health and Human Services with support from The Coca-Cola Company to encourage kids to eat healthier, become more physically active and increase their ability to engage in healthy relationships. A two-year study of more than 2,000 children ages 9-14 showed that Triple Play succeeded in getting them to exercise more, eat healthier foods and feel better about themselves. The study found that Triple Play kids increased to 90 percent of the federally recommended amount of daily exercise, which is 60 minutes a day for children, while their peers outside the program decreased to 78 percent. To date, Triple Play has helped more than one million kids learn the importance of physical activity and proper nutrition. In 2011, the Anthem Foundation joined BGCA and Coca-Cola as a Triple Play sponsor. Learn more about the program at bgca.org/tripleplay.
For additional media assets, please visit our Digital News Room.
About Boys & Girls Clubs of America
For more than 100 years, Boys & Girls Clubs of America (GreatFutures.org) has enabled young people most in need to achieve great futures as productive, caring, responsible citizens. Today, more than 4,100 Clubs serve nearly 4 million young people annually through Club membership and community outreach. Clubs are located in cities, towns, public housing and on Native lands throughout the country, and serve military families in Boys & Girls Clubs of America-affiliated Youth Centers on U.S. military installations worldwide. They provide a safe place, caring adult mentors, fun, friendship, and high-impact youth development programs on a daily basis during critical non-school hours. Priority programs emphasize academic success, good character and citizenship, and healthy lifestyles. In a Harris Survey of alumni, 57 percent said the Club saved their lives. National headquarters are located in Atlanta. Learn more at http://www.bgca.org/facebook and http://bgca.org/twitter.
About The Coca-Cola Company
The Coca-Cola Company (NYSE: KO) is the world's largest beverage company, refreshing consumers with more than 500 sparkling and still brands. Led by Coca-Cola, the world's most valuable brand, our Company's portfolio features 17 billion-dollar brands including Diet Coke, Fanta, Sprite, Coca-Cola Zero, vitaminwater, Powerade, Minute Maid, Simply, Georgia and Del Valle. Globally, we are the No. 1 provider of sparkling beverages, ready-to-drink coffees, and juices and juice drinks. Through the world's largest beverage distribution system, consumers in more than 200 countries enjoy our beverages at a rate of more than 1.8 billion servings a day. With an enduring commitment to building sustainable communities, our Company is focused on initiatives that reduce our environmental footprint, support active, healthy living, create a safe, inclusive work environment for our associates, and enhance the economic development of the communities where we operate. Together with our bottling partners, we rank among the world's top 10 private employers with more than 700,000 system associates. For more information, visit Coca-Cola Journey at http://www.coca-colacompany.com, follow us on Twitter at twitter.com/CocaColaCo or check out our blog, Coca-Cola Unbottled, at http://www.coca-colablog.com.
About Anthem Foundation
The Anthem Foundation is the philanthropic arm of Anthem, Inc. and through charitable contributions and programs, the Foundation promotes the inherent commitment of Anthem, Inc. to enhance the health and well-being of individuals and families in communities that Anthem, Inc. and its affiliated health plans serve. The Foundation focuses its funding on strategic initiatives that address and provide innovative solutions to health care challenges, as well as promoting the Healthy Generations Program, a multi-generational initiative that targets specific disease states and medical conditions. These disease states and medical conditions include: prenatal care in the first trimester, low birth weight babies, cardiac morbidity rates, long term activities that decrease obesity and increase physical activity, diabetes prevalence in adult populations, adult pneumococcal and influenza vaccinations and smoking cessation. The Foundation also coordinates the company's year-round Associate Giving program which provides a 50 percent match of associates' campaign pledges, as well as its Volunteer Time Off and Dollars for Doers community service programs. To learn more about the Anthem Foundation, please visit http://www.anthem.foundation and its blog at http://anthemfoundation.tumblr.com.