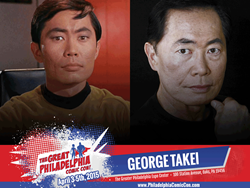 This will be the first time in years that fans in the Philadelphia area will be able to come meet George Takei in person.
Delaware Valley, PA (PRWEB) January 21, 2015
George Takei is a social media sovereign and civil rights advocate on his first trip to the Philadelphia area in years. Best known as Hikaru Sulu from the original Star Trek television series and later movies of the same franchise has more than 8 million Facebook followers and growing. He is not only the voice of the Howard Stern show, but also an equality rights movement leader as he continues to fight for equal rights for all in America.
Nichelle Nichols, a real-life space advocate. Known to fans as Lt. Uhura in the original Star Trek series, has lead an extraordinary life. As Uhura, Nichelle became a role model for African-American women and helped pave the way towards breaking down racial barriers. So important was this role, that no less a person than Dr. Martin Luther King, Jr himself encouraged her to stay on the show when she considered leaving for a career on the stage.
Walter Koenig, is known as Pavel Chekov in the original Star Trek series and later Alfred Bester on the series Babylon 5. Rumor has it that his resemblance to musician Davy Jones (of Monkees fame) guaranteed him the role with Star Trek producers hoping his good looks would appeal to younger audience and attract more viewers.
Other special events occurring at the show include the largest Mighty Morphin' Power Ranger actor reunion in the Northeastern United States. Popular comic book artists such as the Legendary Jim Steranko, Mark Morales, JK Woodward, Mark McKenna and Ande Parks to name a few will also be in attendance. In addition, multiple actors from popular shows such as Buffy The Vampire Slayer, Angel, Arrow, The Walking Dead, Agents of Shield, and more to be announced!
Making a fun debut will be an exclusive trading card set, to be collected during the show. The cards will be available at various tables throughout the showroom, highlighting guests appearing at the show from Artists to Celebrities, and fans will be encouraged to collect the set throughout the weekend. As always we encourage families to bring their children, who have free admission (12 and under) and all participants in the Children's Cosplay event are guaranteed a prize!
Details on the Show – April 3-5th, 2015:
Location:
The Greater Philadelphia Expo Center
100 Station Ave. Oaks PA
Hours:
Friday 4PM -9PM
Saturday 10AM-7PM
Sunday 10AM – 5PM
Admission Cost:
3-Day Weekend Passes are: $40.00 before February 9, 2015. February 9, 2015 passes will be $49.95 online and $55 at the door. VIP and Special Access Passes are available, as well as single day admissions, please visit our website for cost and details.
FREE for children 10 years-old and under accompanied with an adult; 20% discount to all who arrive in costume! There will also be costume contests for all ages, with judges to be announced soon!
For additional information (or for interview requests, sample images, etc), contact Showrunner Christopher Wertz or visit http://www.philadelphiacomiccon.com/.