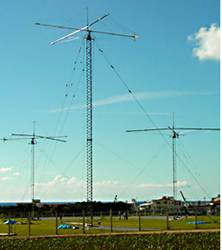 Our HR products offer a smaller size and higher footprint delivering the same or better performance than competing products.
Plano, TX (PRWEB) January 22, 2015
ASC Signal Corporation has been awarded a contract by Page Europa, a General Dynamics company, to provide High Frequency (HF) antennas for Page Europa's defense customer in Poland.
The procurement and implementation of Poland Broadcast, MRL, and Ship-shore (BRASS) was awarded to Page Europa by the NATO Communications and Information Agency (NCIA). Page Europa system design incorporates ASC Signal's industry-standard HF antennas as the HF network's backbone.
The BRASS Program is a joint NATO project designed to improve surface and broadcast ship-shore systems in partnership with host nations. ASC Signal has provided HF antennas to multiple NATO member countries for this program, and has provided its HF antennas to more than 90 countries around the globe. Under the BRASS program, the company's antennas are used to aid and manage the formal message traffic required to support surface force command and control. ASC's award on the Poland BRASS contract follows the company's most recent involvement in the Portuguese BRASS program.
ASC Signal is providing its vertically polarized model 1794 monocone antennas and its model 1765 broadband dipole antennas for deployment within Poland. The 1794 series monocone antenna has 75% smaller footprint and a 25% shorter height versus traditional rival models, while the 1765 broadband dipole antenna uses 30% fewer foundations as well as covering 27% less overall area than competitors' products.
"ASC Signal is committed to design excellence that pushes the boundaries of performance," said Gordon Smith, ASC Signal's HF Product Line Manager. "In our HF products, that means a smaller size and lighter footprint delivering the same or better performance than competing products. The same holds true across our earth station and radar antennas and systems as well."
ASC Signal's line of high-performance antennas, from its most compact 2.4-meter ESA through its extensive line of HF products and up to its largest 14-meter ATC systems, cover all widely-used commercial and military frequency bands from HF up to V-bands. The large number of feed options available on the company's antennas and the overall flexibility of configurations continue to prove extremely valuable to users of the company's entire line of antennas on systems in use around the world.
About ASC Signal
ASC Signal is a multinational manufacturer of high-performance, highly-engineered satellite Earth station, radar and HF antenna systems. Our customers include international broadcasters and Fortune 500 companies, as well as military and government organizations. ASC Signal leads through design innovation that capitalizes on a 40+ year heritage of engineering creativity and excellence. ASC Signal is a member of the World Teleport Association and the Society of Satellite Professionals International.