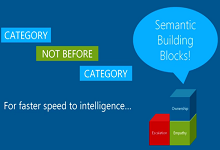 The introduction of Semantic Building Blocks has really helped us rapidly analyze our customer conversations
Boston, MA (PRWEB) January 21, 2015
CallMiner (http://www.callminer.com), rated first in customer satisfaction for interaction analytics solutions, announced today improvements that allow for more rapid discovery of contextual customer sentiment with the introduction of CallMiner Semantic Building Blocks™.
Analyzing customer sentiment has predominantly been applied to text-based interactions and social media despite the fact that "telephony continues to reign as organizations' primary customer service channel," according to IQPC's 2014 Executive Report on Performance, Operations and Technology. The report adds that live phone agent support is offered "in 92% of organizations," suggesting that there is a large untapped source of customer sentiment intelligence. While some speech analytics solutions provide a sentiment score, evaluating sentiment near topics within the conversation has either not been possible or has required a large amount of complex and redundant language patterning work.
CallMiner's introduction of Semantic Building Blocks unlocks the power of contextual sentiment analysis in the large volume of phone-based customer interactions. Providing the ability to reuse previously defined language patterns of words and phrases in subsequent analysis, Semantic Building Blocks allows marketers and customer care executives to more rapidly gain insight into customer attitudes on services, products, campaigns, or other topics. For example, a utility provider with an inbound call center will be able to easily determine if a large spike in negative sentiment is due to a misleading promotion, a service problem, or something more serious. By enabling the reuse of the core analytical building blocks on any number of different topics of interest within customer conversations, CallMiner has significantly reduced the level of effort and time required to unlock critical insights.
"The introduction of Semantic Building Blocks has really helped us rapidly analyze our customer conversations," said Rick Britt, Director of Consumer Data Management and Strategy at Encore Capital. "It has enabled our analysts to quickly and easily look for certain sequences of events, proving to be a very useful feature and a huge time saver."
"Early feedback from our customers shows great excitement around Semantic Building Blocks," said Erik Strand, Vice President of Product Management at CallMiner. "They finally have access to the power of topic based voice sentiment analysis to really understand what is driving positive or negative attitudes without having to spend multiple hours on repetitive work."
Eureka 9.4 with Semantic Building Blocks was released to customers in November of 2014. Watch this video to learn more about the value and use of this feature – http://callminer.com/learning-center/video-library/callminer-semantic-building-blocks/
About CallMiner
CallMiner helps businesses and organizations improve contact center performance and gather key business intelligence by analyzing 100% of customer interactions. With a tagline of "Listen to Your Customers, Improve Your Business" CallMiner's goal is to help companies automate the overwhelming process of monitoring information from phone calls, chats, emails, and social media to dramatically improve customer service and sales, reduce the cost of service delivery, mitigate risk, and identify areas for process and product improvements. Highlighted by multiple customer achievement awards, CallMiner has consistently ranked number one in customer satisfaction, including recent surveys conducted by DMG Consulting and Ovum. For more information, please contact CallMiner at (781) 547-5666, or visit http://www.callminer.com.