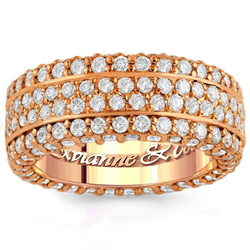 New York, NY (PRWEB) January 21, 2015
Known for their extensive selection of handcrafted diamond jewelry, the master jewelers at Avianne & Co. have consistently designed new and exciting pieces over the past two decades from their flagship store in New York City's famed Diamond District. Traditionally, pendants are limited to classic designs such as initial pendants, cross pendants, and heart pendants. With much experience and diligence in reseraching current trends in the fine jewelry market, the master jewelers crafted a collection of pendants, earrings and a dazzling wedding band made with glamorous rose gold smothered with the best quality of diamonds.
The Aureate Rosette Collection consist of the most notable and refined pieces made from the most famous and elegant metal used in jewelry and the best quality of diamonds. All pieces are crafted in 14K Solid Rose Gold adorned with eighty-eight brilliant white round cut diamonds. Using two separate techniques, designers set the larger stones using prongs with surgical precision and encased the smaller diamonds in a protective bezel setting. Unlike traditional diamond pieces, the Aureate Collection is flooded with stones on multiple setting planes, giving it an exceptional level of depth and allure.
The diamonds on the wedding band is in VS2/SI1 clarity, GH color and prong set all the way around the band. The frame measures to 9.85 mm in width and weighs 18.5 grams. The Aureate Rosette Hoop Earring are contemporary as well as chic, designed for any type of occasion both casual and formal, the inner and outside frames are pave set with lovely small white round cut diamonds which total to 6.00 carats. Pendants come in two stunning designs, the tear drop diamond pendant stands out when pair with any kind of outfit. The center is set with twenty-four round cut white diamonds totals to 1.03 carats weighing to 2, 5 grams. While the untraditional square diamond pendant features a lovely round cut diamonds which total to 0.75 carats. The center framed by two sparkling cushion shaped halos of round diamonds.
The master jewelers at Avianne & Co is known internationally for their craftsmanship and devotion to their client's needs and ideas. While several companies offer similar services, it's the personalized approach, atmosphere, and overall experience that make the services provided by Avianne & Co. invaluable to artists and entertainers all over the world. Among their most respected and loyal patrons are rapper-songwriter Nicki Minaj, world re-known pop star Justin Bieber and award winning singer/dancer Chris Brown.