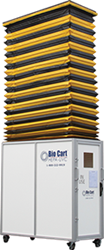 Las Vegas, NV (PRWEB) January 22, 2015
Air-Care, a division of DPL Enterprises specializing in indoor air quality for over 35 years has launched a new product called the Bio Cart HEPA-UVC that is a dust containment cart with unique benefits for maintenance technicians working in ceiling spaces of sensitive areas such as healthcare facilities and clean rooms. "The Bio Cart HEPA-UVC has significant advantages in dust control, containment strategy and convenience of operation compared to other carts on the market," says Air-Care President, Richard Papaleo. "I am very proud to announce that this is the only containment cart with a power lift and folding bellows to mate with the ceiling in an effortless manner." Papaleo continued that the addition of a 3 segment ladder that can remain in the cart during transport, saves time on the job site and the exclusive UVGI lamps in the HEPA filtered air scrubber provide additional protection to patients and personnel in sensitive areas of hospitals and other medical facilities that often require containment when working above the ceiling tile.
"We have found other carts lacking in features and convenience of operation," said Wayne Tracy, Field Operations Manager. "Not only is the Bio Cart easily moved through doors and elevators, but its 3 section extension ladder that reaches 13 foot ceilings and collapses down to 6 ft to store inside the cart, saves a trip to the engineering department," Tracy added. The Bio Cart is designed with input from the "wish lists" of technicians who rather spend time on maintenance tasks, not setting up required containment units.
"The Bio Cart has contractors anxious to place orders," said Mary Dziak, marketing manager of Air-Care. "They love the professional look, easy set up and features just not available on other containment carts on the market today."
About Air-Care
Our History
Air-Care was started in 1979 by Richard Papaleo. One of the premier and innovative thinkers in this industry, Richard revolutionized air duct cleaning by creating portable, powerful, electric, and affordable equipment that could be used to efficiently and effectively clean both residential and commercial air systems. We have grown from a small start-up to the international authority on air duct cleaning equipment and services.
Our 30,000 square foot facility houses our manufacturing and training facility. We produce electrostatic air filters, HEPA filters and air duct cleaning equipment from this facility, as well as provide training on a regular basis. It is also the home base for our service department, which is the leading commercial air duct cleaner in Las Vegas, NV.
Our Mission
Our mission is to help our customers develop a successful and profitable service business supporting their needs with quality equipment at a fair price, supply them with knowledge about the indoor air quality industry and offer them continuous support in a long-term relationship.
Our products make this possible. In addition to our duct cleaning equipment, we also have tools to help you build your business; such as Permanent Electrostatic Air Filters and UV Air-Purification systems. We are partners, not just a manufacturer of equipment.
Contact Information:
Air-Care website: http://www.air-care.com
Bio Cart website: http://www.biocarts.com
Mary Dziak, Marketing Manager
Air-Care
702-454-5515
mdziak(at)air-care(dot)com
###