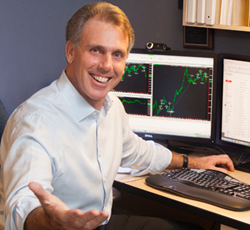 We (Pacific Capital Advisors) generate positive and uncorrelated returns for my clients in the futures markets and met that goal in 2014.
Mountain View, CA (PRWEB) January 22, 2015
Pacific Capital Advisors is a commodity trading advisor offering three managed futures programs all with positive returns for 2014. The agricultural focused Terra program made its debut in April 2014 and led the way reporting a 43.16% return in 2014 (April-December). PCA's other programs, the Vanguard Program reported a 13.12% return and the Agilis Program a 2.87% return. Additionally, Pacific Capital Advisors' president Rob Hartman is the featured Trader Profile in the January 2015 issue of Futures Magazine.
"I am very excited about the returns I was able to provide investors in our managed futures programs in 2014," says Hartman. "Since founding Pacific Capital Advisors in 2005, my goal has always been to leverage my technical and management skills to create fully automated trading programs. We generate positive and uncorrelated returns for my clients in the futures markets and met that goal in 2014."
In the Futures Magazine article, Hartman's programs and their evolution are featured along with the story of how he began as a programmer in Silicon Valley before using his technical ability to trade commodities professionally. Hartman was also recently featured in Top Traders Unplugged, a podcast highlighting professional traders, where his trading philosophy and work ethic are discussed.
The three managed futures programs Pacific Capital Advisors offers are Terra Ag, Vanguard, and Agilis. The Terra Ag program focuses on trading a basket of agricultural products including grains, meats, and softs but applying a unique approach to each product in the basket instead of applying the same strategy to all products. The Vanguard program trades S&P E-mini stock index and interest rate futures. The Agilis program is a more aggressive program that positions trades on US stock indexes and interest rates. All of the Pacific Capital Advisors managed futures programs are fully systematic utilizing automated trading strategies custom developed by Hartman.
RISK DISCLAIMER: Trading futures and/or options involves substantial risk of loss and is not suitable for all investors. You should carefully consider whether trading is suitable for you in light of your circumstances, knowledge, and financial resources. You may lose all or more of your initial investment. Past performance is not necessarily indicative of future results.
For more information on Pacific Capital Advisors, the Terra Ag, Vanguard, or Agilis programs, visit http://www.pacificcapitaladvisors.com or contact Rob Hartman at 650-988-9721 by email at rob(at)pacificcapitaladvisors(dot)com. Pacific Capital Advisors is a registered Commodity Trading Advisor with the National Futures Association.