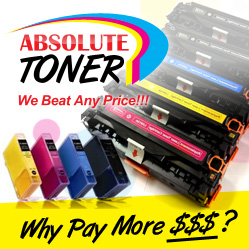 These product can provide high quality and reliable prints
(PRWEB) January 20, 2015
Absolute Toner is proud to announce the availability of Compatible for HP 130A Toner Cartridges at their shop. The company also refers to this product as a combination pack due to its compatibility to a range of HP 130A Toner Cartridges (HP CF350A CF351A CF352A CF353A).
Toner cartridges are one of the items that laser printer users require for the product to function accurately. However, the cost of toner cartridges is often a cause of discouragement for users to buy unless truly needed. Such cartridges are not only bulky, but also costly pieces of equipment. Fortunately, suppliers like Absolute Toner are now here to present consumers with a means to buy these pieces of equipment whenever they need a replacement for the empty one without worrying about what it would cost them. This is the reason that all products available on their web store are not just quality-made, but also offered at unbeatable prices. The recently made available compatible pack is just one of the products that come with these benefits.
The compatible pack is one of the most recent products Absolute Toner has added to their store. The product is compatible for HP CF350A black toner cartridge high yield, HP CF351A cyan, HP CF352A yellow and HP CF353A magenta toner cartridges. These product can provide high quality and reliable prints that can make users happy regardless of where they are performing their printing tasks. The compatible pack yields 1000 color and 1300 black pages. It is ideal for printing papers and documents for presentations or for school work.
The compatible pack is also containing a high yield version for the black cartridge (CF530X). The product comes with a satisfaction guarantee and lifetime warranty together with the unbeatable price in which it is offered.
Consumers who wish to learn more about the item or purchase it can do so by going to http://www.absolutetoner.com/compatible-for-hp-130a-cf350a-cf351a-cf352a-cf353a-cartridges-package-of-4.html.
Absolute Toner is a recognized top supplier of printers and printer accessories where the best toner and ink cartridges can also be found. The company is headquartered in Toronto, Canada. As a supplier of these items, the company is committed to offering the best products that possess all the characteristics that consumers are looking for. These characteristics are superior quality and low prices. All products that are available at their web store are also guaranteed to bring satisfaction to buyers.
To learn more about the high quality products offered by Absolute Toner, feel free to visit http://www.absolutetoner.com.