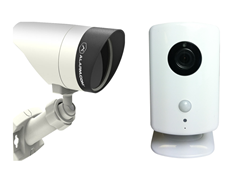 That's why we call it Security By You, because you can create a security system that works for you." - Mark Wilging, CEO of Security By You
(PRWEB) January 21, 2015
Security By You has put together a simple-to-install and affordable HD Video Security Package. The package includes both indoor and outdoor IP wifi video cameras that can be installed in minutes. Unlike most video security systems on the market, this one provides HD quality, IR night vision, and doesn't require a DVR that will need to be replaced every few years.
The indoor camera is the 2GIG CAM-HD100. It is a simple plug-in wifi IP security camera that can be installed in minutes. It can be set on a shelf, counter-top, or permanently mounted. This camera has night vision and can easily see in low light situations. It is a great camera to watch the baby, pet, or an elderly parent.
The other camera included is the Alarm.com ADC-V721W, which is their newest outdoor version. This weatherproof camera is usually permanently mounted on the outside of your home to view different areas such as the front porch, back yard, driveway, or pool. Either camera may be set up to record when motion is detected or viewed real-time from a PC or mobile device.
If a customer has one of the Security By You alarm packages, the two systems can be integrated to work together. For instance, when someone rings the doorbell, the customer will receive a text message along with an embedded video clip. Or when a pool gate, gun cabinet, or master bedroom closet door is opened, someone can see exactly what is happening and who is doing it. Another example of what someone can do with this Video Security Alarm package is if a car pulls into the driveway the security system can enable live viewing or send a video clip to a cell phone.
Spylink Video is the monthly video security service that can be purchased for these cameras by Security By You with No Contracts or hidden fees. It has a low cost of $14.95 per month and allows customers to connect up to 8 cameras without requiring a DVR or NVR. This saves the customer a lot of money in the long run. If someone wants more than 8 security cameras, there is an expansion that can be added to the monthly plan. This monthly service integrates easily with the security systems provided by Security By You and runs on the same mobile app. Security By You is offering these two cameras along with the first month of the Spylink Video service for $399.95 on their website and can be purchased here. For more questions visit http://www.securitybyyou.com or give one of their representatives a call at 855-729-9196.