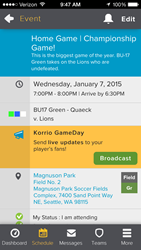 GameDay enables the players' fans to experience the game as if they were there.
Seattle, WA (PRWEB) January 27, 2015
Korrio (korrio.com), a cloud-based service for organizing and sharing youth sports, announced the ability for parents to broadcast game updates via their Korrio mobile app to their kids' biggest fans. GameDay saves time and headaches for busy parents – and makes them the hero by enabling them to capture, share and relive the glory of every game.
"Frequently a spouse, grandparent, friend, or other relative would love to know how their favorite player is doing, but they aren't able to attend every game", said Steve Goldman, Founder and CEO of Korrio. "GameDay enables the players' fans to experience the game as if they were there. The player is the star and their fans now receive all of the color commentary and pictures in a personal sports experience, not shared with the masses like other social channels."
Capture, share and relive the glory
GameDay is all about capturing and delivering updates in a fast and elegant manner to the player's Fans. Korrio presents the 'broadcaster' with an easy to update scoreboard, quick text selections for describing common player and team achievements, as well as the ability to add color commentary and pictures. Gone are the days of juggling multiple text strings, emails and social posts. GameDay Recap automatically aggregates all of the game content and saves it so those special moments can live on.
The power of Fans
A dedicated community of family and friends surrounds each player. These people are passionate about knowing how their favorite players are doing. In addition to receiving GameDay live updates and recaps, Fans are now always in sync with game schedules, directions and communication. Let's face it; fans make sports more fun for your player. Now, everyone can stay in the loop and never miss a thing.
"As a coach of youth sports it has become apparent to me over the years that creating a sense of community within a team is a necessary ingredient for success. This new GameDay is revolutionary in the sports world! Now, no matter if a player's family or friends are at the game, at home or out of town, they can stay connected to the community we've created. In the age of Social Media, Korrio GameDay offers a private way to share the game day experience with people who truly care," said Lauren Martin, Head Coach, EFC, GU12/GU14.
Availability
Korrio GameDay is included free within the Korrio platform and is available for immediate use by all Korrio members. GameDay is fun, easy to use and powerful – take 30 seconds to watch how it works.
About Korrio
Korrio is a cloud-based service for organizing youth sports that is easy, safe, integrated, and mobile. Korrio provides the tools required for a contemporary sports experience and elevates the level at which sports are played by automating the things that get in the way — like web hosting, registration/payment, team formation, rosters, scheduling, reminders and communication. Korrio is transforming sports at every level for the 100 million+ Americans who participate by making it easy to organize, share and communicate. Visit us at korrio.com, Twitter, Pinterest or Facebook.
Media Contact:
Kristina O'Connell, VP Marketing
Kristina(at)korrio(dot)com
Cell: 978.764.7960