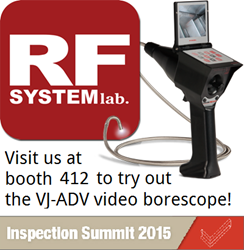 Traverse City, MI (PRWEB) January 21, 2015
RF System Lab, a leader in remote visual inspection, is looking forward to returning to the 2015 American Petroleum Institute (API) Inspection Summit. The API Inspection Summit is taking place January 26-29, 2015 at the Galveston Island Convention Center in Galveston, TX. The four-day summit is focused on asset integrity through corrosion management, and inspection and engineering technology as applicable in the petroleum industry. According to the event website, each day focuses on presentations relevant to upstream, midstream, and downstream operation and integrity management and provides an opportunity to learn about new and existing industry codes and standards. API Inspection Summit also provides a valuable opportunity to hear about emerging trends from experts and to discuss new and existing issues in inspection and AIM technology.
Additionally, the API Inspection Summit features an exhibit hall with the newest and best technology in the petroleum industry. Among those featured products is RF System Lab's flagship product, the ergonomic VJ-Advance (VJ-ADV) video borescope. With its joy-stick controlled 360 degree articulation and extremely portable weight of just 23 ounces, the AA battery-powered VJ-ADV is the ideal inspection camera for any oil and gas maintenance professional. The VJ-ADV's high resolution photo and video capture capabilities allow any inspection to be completed with confidence.
Petroleum experts can test out the VJ-ADV video borescope at the API Inspection Summit by visiting RF System Lab at booth 412. Borescope expert and RF System Lab Sales Consultant Zack Wessels will be on site to answer any video borescope questions and to help attendees find the best ways to complete their remote visual inspections. Exhibits open on Tuesday, January 27 at 7:30am.
If companies are unable to make it to the API Inspection Summit and want to see the VJ-Advance firsthand, there is still a chance to test the video borescope onsite at their facility. Petroleum maintenance professionals can sign up for the no-cost, no-obligation demo program. For more information about RF System Lab or the VJ-Advance video borescope, call 888-747-6526.