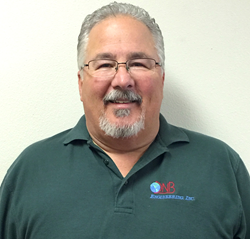 Fullerton, CA (PRWEB) January 21, 2015
DNB Engineering, Inc., a full service test lab and world leader and recognized expert in certification testing, recently announced the appointment of Tony Piraino as Vice President of Sales and Marketing. He most recently served as Sales & Marketing Manager since joining the organization in February of 2001. Mr. Piraino has been responsible for managing and directing the company's sales and marketing efforts by developing plans and strategies to grow business with existing customers as well as developing new customers.
Mr. Piraino will continue to report directly to DNB Engineering's Executive Vice President, Doug Broaddus. He accepts this new position with more than 30 years of sales and marketing experience in the aerospace industry.
"It is with great pleasure that we recognize Tony's strong leadership and sales and marketing expertise," said Doug Broaddus. "He has been an integral part of the DNB Engineering company and family and his in-depth knowledge of the test industry has proven to be invaluable to our operations. His innovative thinking and vision will continue to enhance the strategic direction, growth, and profitability of DNB Engineering."
DNB Engineering continues to provide leadership in the certification test community by these recent organizational changes and it's just another integral step in maintaining and meeting their heavy industry demands. The company has grown substantially in the past few years and continues to broaden their testing capabilities and skills offered to the industry.
About DNB Engineering, Inc.
DNB Engineering, Inc. is a full service Electromagnetic Compatibility (EMC), Lightning, HIRF (High Intensity Radiated Fields), Environmental, Product Safety and Regulatory Test Facility. With three locations in California, one in Utah and another in Arizona, DNB Engineering has the facilities, certifications and the experienced personnel to meet all testing, qualification, and regulatory compliance specifications. The company has the largest commercially available Mode Tuned Chamber on Planet Earth for HIRF testing, capable of reaching field strength levels up to 14,000 V/m. They provide state-of-the-art facilities and highly trained personnel to support the military, aerospace and commercial industries. DNB Engineering is NVLAP accredited to ISO/IEC 17025 standard and employs NARTE qualified personnel to meet all testing in the EMC scope.