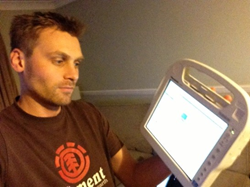 InferMed accepted the challenge and their efforts and professionalism helped us achieve early opening of this Ebola treatment study
London, UK (PRWEB UK) 21 January 2015
InferMed's MACRO is being used for electronic data collection and data management in a trial led by Oxford University Centre for Tropical Medicine and Global Health. Investigational Ebola treatments are being tested in West Africa as part of an international initiative to fast-track trials of the most promising drugs, for this disease that has already led to over 8,000 deaths.
MACRO made it easy to develop the database, data entry forms and validations while the Oxford team were finalizing the trial protocol, thus getting the trial data-ready within six weeks. InferMed efforts included a dramatic dash to Amsterdam by Oli Cram (pictured) carrying MACRO-configured Toughbooks® that can withstand repeated sterilization, to ensure they caught the connecting flight to West Africa.
Multiple partners have been involved in setting up this study of patients at existing Ebola treatment centres, funded by a multi-million grant from the Wellcome Trust. Partners include the International Severe Acute Respiratory and Emerging Infections Consortium (ISARIC), the University of Oxford, Médecins Sans Frontières (MSF), the World Health Organization (WHO), Institut Pasteur, Institut Pasteur de Dakar, Fondation Mérieux and the Global Health Network.
The Ebola outbreak has been declared a threat to international peace and security by the UN Security Council and has prompted demands for an urgent response. In August 2014 a WHO expert panel unanimously concluded that in such exceptional circumstances it would be ethical to evaluate unregistered investigational treatments in people with Ebola virus disease.
Led by Dr Peter Horby of the Centre for Tropical Medicine and Global Health at the University of Oxford and ISARIC, this initiative will allow candidate Ebola treatments to be assessed rapidly in patients so that those proving safe and effective may be adopted for use as soon as possible. Dr Horby said, "The Ebola situation in West Africa is an ongoing tragedy of immense proportions and we urgently need to know whether any of these investigational treatments can save lives. In essence we need straightforward clinical trials, as for any drug for any disease, but new ways of working will be needed to provide rapid and reliable answers in perhaps the most challenging outbreak we have ever encountered. Effective drugs will not only help individual patients but will also increase community confidence in the value of Ebola treatment centres, thereby improving our chances of controlling the outbreak through isolation and treatment of infectious patients."
Prof Trudie Lang, Head of The Global Health Network at Oxford, added, "InferMed accepted the challenge and their efforts and professionalism helped us achieve early opening of this Ebola treatment study".
"Strong partnerships with all, and particularly with Oxford, were the key factor in ensuring that the database and data capture forms were developed and validated, and the laptops configured in a remarkably short time" said MACRO Business Manager, Oli Cram. "We are really proud that MACRO is being used in such a significant trial."
The Wellcome Trust is the world's second-highest spending charitable foundation, dedicated to achieving extraordinary improvements in human and animal health. We support bright minds in biomedical research and the medical humanities, including public engagement, education and the application of research to improve health. We are independent of both political and commercial interests.
The International Severe Acute Respiratory and Emerging Infection Consortium (ISARIC)
The International Severe Acute Respiratory and Emerging Infection Consortium (ISARIC) is a global initiative aiming to ensure that clinical researchers have the open access protocols and data-sharing processes needed to facilitate a rapid response to emerging diseases that may turn into epidemics or pandemics. The vision of ISARIC is to foster global collaborative patient-oriented research between and during epidemics of rapidly emerging public health threats in order to generate new knowledge, maximise the availability of clinical information, and thereby save lives.
The University of Oxford's Medical Sciences Division
The University of Oxford's Medical Sciences Division is one of the largest biomedical research centres in Europe, with over 2,500 people involved in research and more than 2,800 students. The University is rated the best in the world for medicine, and it is home to the UK's top-ranked medical school. From the genetic and molecular basis of disease to the latest advances in neuroscience, Oxford is at the forefront of medical research. It has one of the largest clinical trial portfolios in the UK and great expertise in taking discoveries from the lab into the clinic. Partnerships with the local NHS Trusts enable patients to benefit from close links between medical research and healthcare delivery. A great strength of Oxford medicine is its long-standing network of clinical research units in Asia and Africa, enabling world-leading research on the most pressing global health challenges such as malaria, TB, HIV/AIDS and flu. Oxford is also renowned for its large-scale studies which examine the role of factors such as smoking, alcohol and diet on cancer, heart disease and other conditions.
Established in 1967, Fondation Mérieux is an independent family foundation, which has public interest status. Its mission is to enhance local capacities in developing countries to reduce the impact of infectious diseases on vulnerable populations.
Fondation Mérieux focuses on 3 objectives:

Enhancing local research capabilities through collaborative programs on the pathologies specific to underprivileged countries, providing training for researchers, and developing diagnostic tools for improved identification of infectious diseases.
Increasing vulnerable populations' access to diagnostics by strengthening clinical biology capacities in local healthcare systems.
Encouraging dialogue and knowledge-sharing within the public health community to contribute to the dissemination and development of expertise and innovative projects.
InferMed provides software and services to support best practice in medicine. Through its MACRO EDC application and Arezzo® decision support technology, patients receive safe, up-to-date medical treatment based on the best clinical evidence. InferMed solutions tackle the volume and complexity of clinical information, helping transform it into actionable knowledge, available at the point of care to clinicians in research and practice, and to patients in their homes. InferMed solutions are accessed over a million times per month across Europe, North America and Australasia.
In 2012 InferMed won a prestigious Queen's Award for Enterprise in Innovation for its work in developing and commercialising decision support systems for healthcare using Arezzo. Arezzo is embedded in MACRO providing un-rivalled potential for supporting complex trials. The Queen's Award acknowledged the growing vital role played by Arezzo in encouraging the consistent use and development of good practice, helping to ensure healthcare, right first time, every time.
If you would like more information on this release, please contact Mark Snell at InferMed Ltd on 07500 893063 or at mark.snell(at)infermed(dot)com.