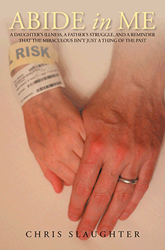 it's a story of hope with a message of perseverance, strength and joy even in the darkest of times
HOUSTON, Texas (PRWEB) January 22, 2015
According to Global Genes, 10 percent of Americans live with rare, unfamiliar diseases that do not have treatment. This statistic became real to Chris Slaughter when his young athletic daughter suddenly experienced memory loss, impaired eyesight, an unsteady gait and no clear diagnosis for the malady attacking her body.
"Abide in Me" documents this Texas father's journey through hospital rooms, church doors and endless nights as he grappled with faith and understanding in wake of his daughter's suffering.
"I highlight areas where I feel I failed as a father, husband and Christian and try to provide insights into what I learned during that period," Slaughter said. "Ultimately, it's a story of hope with a message of perseverance, strength and joy even in the darkest of times."
At the age of six, Slaughter's daughter began a battle against a rare autoimmune disease called Linear Morphea. For two years, she showed remarkable recovery until a mystery illness struck in the beginning of 2013. Still undiagnosed, the Slaughter family has learned to hope for the future, despite the uncertainty of everyday life.
Readers share a personal experience with Slaughter as he describes the healthcare process, his daughter's continuing relapses with her new disease and her displays of strength all the while. As the emerging neurological field continues to grow, it is important to paint a picture of the families confronting vicious diseases with no armor.
A half marathon runner, adventure racer and Tough Mudder participant, Slaughter and his wife have instilled a love for sports, gymnastics and competition in their two children. Slaughter hopes to leave readers with advice on how to trust in God when physical strength fails and all that is left is the power of faith.
For more information on his new book, visit http://www.abideinmebook.com/. For updates on Samantha, Slaughter's daughter, like their Facebook page: https://www.facebook.com/pages/Abide-in-Me/615240625265041?ref=hl.
Abide in Me
By Chris Slaughter
ISBN: 978-1-49908-297-5
Available in softcover, hardcover, e-book on Amazon, Barnes & Noble and Xlibris's online store
About the author
With a Bachelor's degree in Finance and a Master's in Economics from Baylor University, Chris Slaughter stepped out of his comfort zone to write his first novel about his daughter's valiant fight against both an auto-immune disease and a rare neurological disorder. Chris and his wife run half marathons and are active members in their church, where they have led bible studies and fitness classes that emphasize faith and strength in the midst of life's trials.
# # #