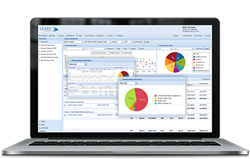 More powerful functionality for global scalability
Franklin, Tennessee (PRWEB) January 23, 2015
All-in-one performance marketing software company provides groundbreaking user experience
The importance of user experience in today's digital economy can't be downplayed. As a result, LeadsPedia has made it a priority to provide visitors to its website with an intuitive interface that's supported by sleek visuals and graphics. By scrolling through the site's content, visitors can access new layers of detail and information about the company's performance marketing platform.
"We wanted anyone visiting our site to take a visual journey through the software," explained Mohammed AlKandari, president and CTO of LeadsPedia. "Like our software, the website's user-friendly format should present all of the functionality and tools we provide for affiliate management, call tracking and lead distribution without complication.
"We know that trying to describe some of the more technical aspects of tracking and routing leads can be difficult, which is why we put a lot of effort behind making the graphics do a lot of the legwork," AlKandari went on to explain.
Once visitors land on the LeadsPedia website, they get a clear sense of the software's functionality. Scrolling further down the page, guests are guided through the steps involved in lead generation, including capturing, validating and distributing consumer data to clients in real time. Next, the essentials of affiliate management are put clearly, and visitors can fully grasp the powerful nature of call tracking and routing using the all-in-one dashboard. Additionally, the site's responsive design ensures it renders beautifully on any device.
More powerful functionality for global scalability
In fact, LeadsPedia has worked hard to upgrade its call tracking and routing features to include international capabilities. As a result, companies that want to take their lead generation campaigns or affiliate programs global can do so confidently. Businesses can rest assured knowing LeadsPedia's true validation and verification capabilities, filtering and fraud prevention will allow only the inbound phones leads of value to enter a company's workflow.
Another major update to the LeadsPedia website is the product demo feature. Previously, anyone interested in testing out the platform had to make a call to sign up for the demonstration.
"With the redesign, we wanted to build the site around a self-service model, which allows users take more control of their experience," said AlKandari.
Accordingly, guests can now signup directly on the website. Their invitations will be automatically generated, and they can start using LeadsPedia straight away. Within minutes, users have the chance to see how the software adapts to fit the various marketing needs of their organization.
LeadsPedia is a performance marketing platform that allows businesses to track, capture, attribute and optimize digital marketing activities. Affiliate networks, advertisers and publishers are able to leverage this tool to enhance business performance and effectively manage marketing spend.