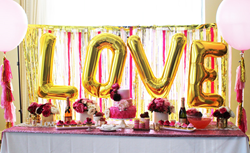 Many brides will choose to create the lux look on a budget with faux flowers
Jamestown, NY (PRWEB) January 21, 2015
Afloral.com has their finger on the pulse of wedding trends in the new year, from wedding colors, to wedding décor and wedding themes. Find out what trends will be hot for weddings in 2015.
Top 5 Wedding Theme Trends for 2015
1) Bohemian Wedding
Bring on the Boho Wedding in 2015! This trend will dominate the wedding scene with carefree bohemian touches in wedding fashion and décor. Flowers, such as dahlias and wildflowers, in bouquets and centerpieces will create the Boho look. Wedding hairstyles will be loose and free flowing. Fabrics with Moroccan or Indian patterns will also add to the free spirit feel of the Boho wedding trend.
2) Backyard Garden Party
Why not use your backyard for a wedding reception? Many wedding couples will be choosing this option in 2015. Backyard weddings fit in with the DIY spirit so popular with brides. Couples will save money and make their wedding special by choosing home for their reception. Backyard weddings will have a relaxed fun feel and decoration choices will tend towards rustic and colorful touches. Big balloons, trees strung with lights, homemade greenery arches, and vintage tables and furniture will be popular decoration choices for the backyard wedding.
3) Lux Wedding
Luxurious weddings are making a comeback in 2015. Flowers walls, tall full centerpieces, and rich deep hues will be part of the lavish look of lux weddings. Many brides will choose to create the lux look on a budget with faux flowers. Flower walls and floral runners can be created with faux flowers ahead of time and are easier on the wedding budget.
4) Modern Geometric Wedding
Modern couples will choose geometric shapes as the focal point for their wedding theme in 2015. Clean lines, hard edge geometric patterns, and angular designs will be featured in wedding decorations, along with bold bright colors. Romance will be brought in with unique flowers choices such as Protea, spider mums, and succulents.
5) Western Wedding
From Wild West touches to barn inspired looks, the country western will be a popular wedding trend in 2015. Brides will don their cowboy boots and grooms their cowboy hats. Wedding tables will be covered in gingham and centerpieces will be rustic tin or wood containers filled with sunflowers and daisies. Burlap, twine and cotton stocks will be the perfect touches creating that rustic country western wedding look.
Top 5 Wedding Decor Trends for 2015
1) #Hashtag wedding
With social media becoming a bigger part of our lives everyday it's not hard to guess that the hashtag wedding will be popular in 2015. While some wedding couples will opt for unplugged weddings, others will embrace our new social technology and designate their own hashtag to be used by guests snapping photos and posting on social media about their wedding party experience. Hashtags will be incorporated into wedding décor, written on chalkboards, or as balloons spelling out the wedding day hashtag. Personalized wedding hashtags are a fun way to share photos, especially of the amazing DIY's that brides put so much effort into, and have the day of the wedding live on in social updates.
2) White Modern Wedding décor
Clean white makes a modern and romantic statement for weddings. White will be a classic wedding color choice for many brides and grooms in 2015. Flowers and décor items in white will include milk glass, calla lilies and hydrangea, ostrich feathers, and jumbo balloons -all in white.
3) Feathers in Wedding Décor
Brides in 2015 will be choosing the lux vintage look and feathers will be a major décor element in these themes. Peacock feathers made an appearance in 2014, and will continue into this year making a statement with color combo choices such as copper and teal which take a nod from these fabulous feathers. Big white ostrich feathers in white will bring back vintage glamour in full force and will be used in, over the top, stunning wedding centerpieces.
4) Weddings with Greenery, Greenery and More Greenery
Wedding décor, wedding bouquets, and wedding centerpieces are going to be full of greenery in 2015. Greenery table runners with full foliage and leaves or moss filled with flowers that double as the table centerpiece will be a popular wedding table-scape choice.
5) Wedding Tables with Small Vase Collection Centerpieces
From collections of small vintage bottles to modern white geometric vases grouped together, this wedding centerpiece trend will be a hit in 2015. Bottle or vase collections with single stems will be an easy and beautiful DIY option for brides looking to simplify their wedding décor.
Top 10 Wedding Colors for 2015
1) Pastels Wedding Color
Get ready for a year filled with pretty pastel weddings in 2015! Soft pastels add a romantic touch to bouquets and arrangements in weddings, and will be chosen often - not only for wedding flowers, but also for bridesmaid dresses and wedding accent colors. Soft yellows, baby blues, pale pinks, and light lavenders will pop up in weddings from the spring and summer wedding seasons. For fall, expect pastels to be combined with darker hues such as light mauve combined with the color of the year, Marsala.
2) Purple Wedding Color
Purple, the color of royalty, will still reign as a popular color choice for weddings in 2015. This rich color will likely be combined with pastel hues. We will also see lavender and lilac shades in floral choices and wedding décor. Purple combined with gold will be another hit, as gold will be a favorite in 2015, as well. Other popular purple combos chosen by brides will be purple and turquoise, purple and pink, and purple and orange.
3) Marsala Wedding Color
The color of the year is a fabulous, deep red wine hue, that brides will choose to make their wedding feel sophisticated. Marsala combines nicely with mauve and light pink tones, as well as gold. Gold and marsala complement each other, creating a rich wedding color palette that, and when combined with grey or neutral off whites, really makes marsala pop.
4) White Wedding Color
Couples in 2015 will be bringing back the white wedding! White weddings lend themselves to a glam lux look, which will also be popular this year. White paired with soft pastels makes for a romantic and luxurious color choice. Orchids, dahlias, and peonies in white shades are the perfect complement to this color scheme. Diamond fillers, reflection runners, and hanging crystals are also great parings for white weddings.
5) Blues Wedding Color
2015 will reveal a fair share of brides choosing blue as their wedding color. From navy blue weddings to baby blue, brides will choose this color as a bold statement on their wedding day. Blues combine well with peaches, creams, and teals, and are a perfect choice for nautical and beach wedding themes.
6) Teal Wedding Color
Teal is still a strong choice for couples planning their wedding colors in 2015. Teal can be boldly mixed with other popular colors for a strong and bright color palette. Think teal paired with hot pink, teal accented with shades of yellow, or teal contrasted with coral for a beach themed look. Teal and copper is also a fresh and distinctive choice in 2015 that will add a flair of glamour to any event.
7) Coral Wedding Color
Coral is such a vibrant fun color it has to be on the list for brides color choices in 2015. Coral combined with teal creates a fresh beach look and combined with turquoise can create a desert wedding color palette. Coral with yellow creates a beautiful fresh spring look and lends itself to creative flower and bridesmaids dress choices.
8) Gold Wedding Color
With gold bring on the lux in 2015. The choice for gold in weddings in 2015 will range classic gold to shades of rose gold. Brides in the new year will choose gold in décor and accent colors in wedding fashion. Mercury glass in rose gold will fit the bill for a rich wedding table and gold in jewelry shoes will give brides the hint of glamour they are looking for.
9) New Metallics Copper and Bronze Wedding Color
Copper is a newer metallic on the wedding color scene, but it will make a strong appearance in wedding décor and fashion in 2015. A copper wedding mixed with teal is a glamorous and offbeat choice for brides. Copper works well for vintage and modern industrial wedding themes. Copper and Bronze are the décor metals to watch in 2015. Bronze will be paired with creams and peaches for a rustic look, or combined with gold for a rich wedding palette. Mixing green with bronze is a bold color choice for couples wanting to make a statement on their wedding day.
10) Grey
Grey will provide a sophisticated backdrop for weddings in 2015. Wedding couples will choose grey mixed with yellow - think yellow peonies and billy buttons with grey lambs ear and dusty miller greenery. Mint and grey wedding color palettes will also be a popular choice. The color of the year, marsala, will also be paired with grey to create a modern feel in weddings with a strong and bold twist.