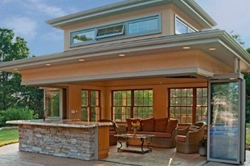 Kitchen Transition 2.0 is the ultimate window/door combination that opens completely to create an outdoor kitchen and a sense of spaciousness for everyday use and entertaining. -NanaWall Systems CEO Ebrahim Nana
San Francisco, CA (PRWEB) January 20, 2015
NanaWall Systems continues to evolve the indoor/outdoor kitchen trend by introducing its Kitchen Transition 2.0 at IBS 2015 in Las Vegas. It's a dual-height single track sliding window/door system which opens up stunning vistas where a window-topped countertop meets a wall, allowing both windows and walls to vanish at a touch. The 2.0 version of this NanaWall innovation adds the option of zero floor track (to leave countertops pristine), fully open corners, and hidden pocketed panels.
NanaWall Kitchen Transition 2.0 is a combination of the company's sliding glass windows, which replace traditional windows over a kitchen countertop, and sliding glass ceiling-to-floor walls, which replace a wall or a typical sliding glass door. The two meet seamlessly, creating a high-style look, enhancing and expanding a living space. When open, the glass panels are able to seamlessly disappear into a pocket and out of view.
"Kitchen Transition 2.0 is the ultimate window/door combination that opens completely to create an outdoor kitchen and a sense of spaciousness for everyday use and entertaining," notes NanaWall Systems CEO Ebrahim Nana. "When closed, Kitchen Transition 2.0 provides secure weather protection and durability in all climates from tropical coastal homes to wintery ski cabins."
Each panel of the window/wall Kitchen Transition 2.0 opens and operates independently; any combination can be created for virtually any kitchen that faces a backyard, courtyard or deck, creating unlimited opening possibilities.
Kitchen Transition 2.0 works with both wood and aluminum systems. The wood systems are available with more than ten wood options, including pine, spruce, beech, Douglas fir, oak, and mahogany. Aluminum systems are available with a durable powder coating with a choice of more than 200 gloss or matte colors.
###
ABOUT NanaWall Systems
NanaWall Systems redefined the category of opening glass wall systems. During its 25-plus years in business, the company has earned the trust of architects, builders, design professionals, and homeowners as a solutions provider for re-imagining how buildings, people, and the elements interact. By combining precision engineering and outstanding design options across more than 20 unique systems, NanaWall Systems advances design possibilities beyond the conventional for almost any space.
NanaWall Systems is located in the San Francisco Bay Area, with 22 showroom and design studio locations across North America. NanaWall Systems is the exclusive North American partner of Solarlux Germany, the world leader in opening glass wall technology. For more information, visit nanawall.com or call 800-873-5673.