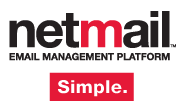 Phil Van Etten's leadership in managing high-growth companies and experience is the perfect combination to help Netmail accelerate growth.
Montreal, Quebec (PRWEB) January 21, 2015
Netmail Inc., a leading provider of email archiving, security, and storage management solutions for Microsoft Exchange and Novell GroupWise, today announced the appointment of Phil Van Etten as the company's new President and CEO. Pierre Chamberland, founder and former CEO, will continue to serve on the Board of Directors and assist with various elements of the company's growth.
Phil has a wealth of expertise in managing fast-growing technology companies in the security and collaboration space. Prior to joining Netmail, he was CEO of Azaleos, which provided Managed Messaging & Collaboration services, primarily around Microsoft Exchange and Sharepoint. Azaleos was acquired by Avanade, one of Microsoft's largest partners and majority owned by Accenture LLP in December of 2012. For the past two years, Phil was a Senior Vice President at Avanade in their Unified Communications and Collaboration Managed Services division. Prior to Azaleos, Phil was the COO/CFO of Security Network Access Control innovator, Sygate Technologies, which was acquired by Symantec in 2005.
"Phil's leadership in managing high-growth companies and experience in the complex world of Enterprise Messaging and Collaboration systems is the perfect combination to help us accelerate our growth for the benefit of our Microsoft Exchange and Novell GroupWise clients, our technology partners like Caringo, Microsoft, VMware, IBM, and Eset, as well as our employee-shareholders," said Pierre Chamberland, founder of Netmail.
"It's an exciting time to be at Netmail as we get ready to release new security and compliance technologies that wil continue to address increased vulnerabilities and improve email and collaboration performance in our customers' environments. 2015 will be a good year for Netmail," said Phil Van Etten.
"The company is also pleased to announce that Derek Gatehouse will be joining as our new Vice President of Sales," said Chamberland. "Our Integrated Email Management solution is rapidly expanding and our product is gaining significance. Derek will help us build a high-performance team to work with clients. His joining alongside Phil is simply perfect timing!"
Derek is an accomplished Sales Coach, Author, Presenter, and Advisor who has worked with dozens of prosperous organizations throughout his career, including Investors Group and Marriott. Impressed with the direction of the company and new leadership, he has chosen to dedicate himself fully to the evolution of Netmail, which was named one of Montreal's Top Employers for 2012 and one of Canada's Top 50 Small and Medium Employers in 2013 & 2014.
About Netmail
Netmail provides the simplest way to manage your email, whether for 100 or 100,000 mailboxes. An integrated, award-winning platform that includes email security, archiving, encryption, eDiscovery, storage, monitoring & more--for only $12 per mailbox per year, everything included. You won't find better technology, better support, or better people, for less money. Anywhere.
# # #
Netmail is a registered trademark of Netmail Inc. All other company and product names mentioned are used only for identification purposes and may be trademarks or registered trademarks of their respective companies.