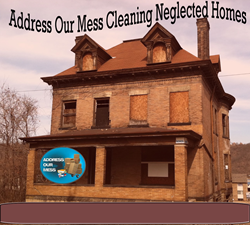 Address Our Mess is a company that specializes in helping homes return to livable condition.
Philadelphia, PA (PRWEB) January 21, 2015
The Great Recession is coming to an end according many economic forecasts out there, but the remnants of it will be here for many years to come. Much of the fallout from this crisis is contributed to collapse in real estate prices across the United States, and as a result many people just walked away from their homes. These homes over the past 7 years have been neglected and without the proper maintenance, they have fallen into disrepair. Also, many of these homes have many personal items in them that need to be removed from the home.
With all of these homes that have been left behind in the crisis it is important to understand the recovery of these homes is important economically. Also, many of these homes contain possessions of the former residents who have left them behind, because of them not being able to bring them with them. As a result, food may have been left behind that could have rotted over time. Many of these items are technically biologically hazardous to one's health as such they will need to be removed by a specialized crew that has training in removing decaying materials. Another critical factor is a thorough heavy duty cleaning of the property would be necessary.
Deep cleaning of the property implies a thorough cleaning of all surfaces. This would include walls, floors, tile, ceilings, and any all crevasses. This is crucial in returning the home to livable and healthy condition for individuals to live in. When looking to help these return to the market, they need to be shone in a presentable position for a person to potentially purchase as either their home or possible investment in the property. However, the question that needs to be raised is what type of company is outfitted for undertaking the large scale task of cleaning a foreclosed home.
A specialized neglected property cleanup company is just such a company that can be tasked with just such an undertaking. A prime example of a company that can handle this type of work is Address Our Mess. This company currently services over 28 states at the writing of this article. With skilled crews they are able to handle any type of removal or cleaning work that is necessary in the foreclosure cleanup industry. A company that is similar to Address Our Mess would need to have specialized equipment and crews to help deal with this scenario.
The foreclosure crisis may have passed, but the remnants of it are still around. That is why companies that are similar to Address Our Mess exist in this post-recession world where there are a large amount of neglected homes that need to be cleaned up and returned to the market. This service will online increase over time and Address Our Mess will be at the forefront of the neglected home cleanup industry.