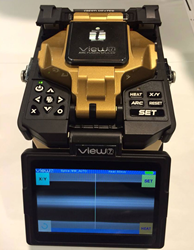 Nashua, NH (PRWEB) January 22, 2015
Among those utilizing the features of the View Series fusion splicers are cell tower construction installation companies, infrastructure cabling companies, and local government contractors.
The View Series fusion splicers have been used by world leading cell tower construction installation companies across the globe to build and optimize networks bringing voice, video and data communications. Whether used in the setup of a new telecom infrastructure or updating existing infrastructures to meet increased demands, the feedback on these projects has been excellent.
As a part of increasing efficiency for wire line, fiber optic, wireless and FTTH projects, companies are looking to the new View Series fusion splicers from INNO Instrument. These fusion splicers offer a 520x magnification and resolution, the highest in the industry. A double tap touch screen with zoom in and out technology offers large and clear fiber images allowing technicians to clearly see the condition of the fibers without using an OTDR. 3 LED lights provide bright splice conditions to users working in dark environments. Both the View 5 and View 7 core-alignment fusion splicers have one of the fastest heat times in the industry (13 seconds) and a battery capacity of 355 cycles. The View Series fusion splicers come with a 3 year warranty and sell thousands below the competition.
FiberOptic Resale Corp will be demonstrating the newest in splicing technology at the Winter BICSI Conference 2015 in Orlando, FL. To see the View Series fusion splicers in action stop by booth #1227.
About FiberOptic Resale Corporation
FiberOptic Resale Corp (FORC) is a dedicated value added stocking distributor and service center servicing the fiber optic industry. We bring high-quality, cost-efficient products to the CATV, Contractor, Enterprise, and Telecommunications marketplace. These products are centered on the Outside Plant (OSP), Central Office (CO), and head end areas of our customer's environments.
With a wide variety of services including in-house technicians we repair, clean & calibrate fusion splicers, OTDRs and cleavers and more. FORC is the largest INNO Instrument authorized fusion splicer service center. Our clients benefit from our "In the field" philosophy with on-site demos and training sessions to help technicians keep up to date on the latest products. To request a product demo, please call 877-287-7535.
About INNO Instrument
INNO Instrument was founded in Seoul Korea in 2007, with their USA corporate sales and technical staff facility located in Dallas, Texas. Specializing in the latest technology of core alignment and clad splicing INNO Instrument continues to develop their fusion splicer products to include the new View Series of fusion splicers. INNO fusion splicer comes with a 3 year warranty. The best warranty in the industry.