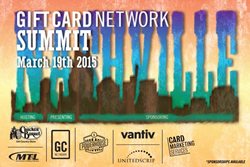 "Our member hosts have really stepped up to make this event amazing, our best ever." -Martha Weaver, Gift Card Network Director
Vancouver, WA (PRWEB) January 23, 2015
The Gift Card Network holds a series of regional creative brainstorming summits for the gift card industry. These summits focus on building comfortable working relationships and respect among a variety of merchants, vendors, and distributors.
The GCN has made great strides in building networking opportunities and educational content at its regional industry summits. Discussions happen within collaborative groups, and these events have seen a surge in member attendance since they were introduced in 2013. This Nashville summit is projected to draw over 100 attendees. On the evening prior to the Summit, March 18th, Cracker Barrel Old Country Stores has arranged for Gift Card Network Summit attendees to have a private tour of the Country Music Hall of Fame, followed by a private dinner, adding another opportunity for members to mingle and network.
Additional sponsors of the event activities include United Scrip, Vantiv, Card Marketing Services, and Powerhouse Brands.
The network held its first event in June 2013, in Minneapolis, which was hosted by Travel Tags. The event was held onsite at Travel Tags Card Manufacturing HQ and gave members the first glimpse of what opening up discussion across a diverse industry expert group could be. Due to the enormous positive feedback, members quickly signed up to host future events. During the past two years, quarterly regional summits have been held in Minneapolis, Toronto, Seattle, Atlanta and Chicago. Gift Card Network Member hosts have included: Travel Tags, Givex, Powerhouse Brands, REI, Neenah Paper, Hyatt Hotels, and now Cracker Barrel Old Country Stores and MT&L.
"Attending a Gift Card Network Summit provides us an opportunity to intimately collaborate with key partners and vendors in a workshop-like setting to discuss important challenges occurring in the gift card industry. The ability to apply our knowledge as a leader in the gift card space, in an educational setting, is an invaluable experience," states Jayne Stegemiller, Marketing Manager, Cracker Barrel Old Country Stores
"Hosting a Summit is one way to support the Gift Card Network and our partners in the Gift Card Industry and we are happy to have the opportunity to co-host the Nashville event" states Jeff Weatherly, MT&L Card Products.
Each summit features collaborative discussion on relevant case studies, and content is generated from the event's activities by Powerhouse Brands Consulting, the network's media partner and posted to the Gift Card Network web platform. Additional event details and RSVP information on our upcoming Summits in Nashville and Vancouver BC is available at thegiftcardnetwork.com/events.
About the Gift Card Network:
The Gift Card Network is a the first gift card-specific marketing and collaboration platform. The network focuses on the identification of vital issues in the gift card industry and empowering its members to address these issues using connection, collaboration, and creativity. Members include companies that focus on the gift card industry. Find Everything Gift Card at thegiftcardnetwork.com.