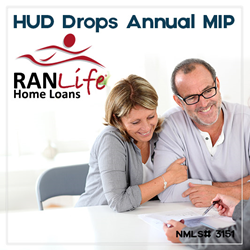 "FHA Annual MIP Drops to .85"
Salt Lake City, Utah (PRWEB) January 22, 2015
RANLife, a Utah based mortgage lender, is offering free advice and guidance to current and prospective homeowners that are interested in possibly qualifying for less expensive insurance premiums on Federal Housing Administration (FHA) Home Loans. This reaction is in response to an announcement made recently by the U.S. Housing and Urban Development (HUD) that they will be lowering annual insurance premiums on FHA Loans.
To combat decreasing homeownership rates, congress is forcing HUD to lower the premium. On January 8th, 2014, U.S. HUD Secretary Julián Castro announced that FHA will reduce the annual premiums new borrowers will pay by half of a percent. This lowers premiums from the current 1.35% on a 30-year-fixed loan to .85%. This change will allow homeowners to drop their monthly MIP payments if they choose to refinance to the lower rate. Combined with current low interest rates homeowners have a great opportunity to drop their monthly payments even lower.
The trend during the past few years has been that clients couldn't afford to go the FHA route because the monthly payments were too high. That's not going to be the case anymore. According to HUD, this adjustment is expected to save more than 2 million FHA homeowners an average of $900 annually and enable $250,000 new homebuyers to purchase their first home over the next 3 years.
FHA's new annual premium prices are expected to go into effect later this month.
RANLife advises that anyone with an FHA loan currently should look into doing a FHA streamline. There are no income or appraisal documents needed to qualify. Qualifications include but are not limited to:
-Positive payment history on existing mortgage
-5% minimum monthly savings
-Must currently have an FHA loan
-Most lenders require a credit score of 620 although some will go to 580
RANLife encourages anyone who thinks they might qualify for the program to give them a call or fill out an application online. They are committed to educating homeowners who are currently paying high mortgage insurance rates and help offer a less expensive option. For more detailed information, homeowners are encouraged to visit RANLife's website at http://www.ranlife.com.
About RANLife
RANLife is a leading mortgage lender that was founded in 2001. Based out of Salt Lake City, Utah, they service locally and nationwide to 17 different states. RANLife provides financing for all programs including FHA, USDA, VA, Conforming, Jumbo, and Fixed and Adjustable-Rate Mortgages. Their promise is great service with great rates. For more information contact them at 800.461.4152 NMLS# 3151.
Follow RANLife Home Loans on Facebook at http://www.facebook.com/ranlifehomeloans.
And stay up to date on the Home Lending Life blog at http://blog.ranlife.com.