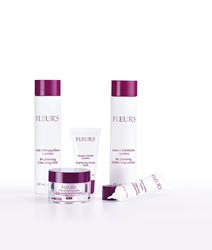 Star Lily inhibits melanin synthesis to diminish the size and intensity of existing pigmentary spots.
SAINT-MALO, FRANCE (PRWEB) January 22, 2015
For Immediate Release
Available in select spas in the United States
and at http://www.lespausa.com
Fleur's introduces a new brightening collection, now available in select spas and resorts. This multi-faceted skin brightening collection includes Brightening Cleansing Milk, Brightening Exfoliating Lotion, Brightening Unifying Serum, Brightening Source Cream SPF15 and Brightening Vitality Mask.
Created with a combination of advanced ingredients, products are designed to reduce skin pigmentation and brighten the complexion. Star Lily inhibits melanin synthesis to diminish the size and intensity of existing pigmentary spots. Vitamin C derivative helps prevent the formation of dark spots and reinforces the complexion's natural radiance. Complementary ingredients help to soothe, soften and gently exfoliate the skin.
Main ingredient Star Lily is cultivated in an environmentally friendly manner to boost the flower's exceptional cosmetic properties while protecting it and preserving its survival.
Star Lily - powerful melanin-reducing action helps prevent and combat pigmentary spots while improving skin brightness.
Vitamin C derivative - brightening action reinforces the complexion's radiance and reduces the formation of dark spots.
Fleur's at a glance:
Fleur's, literally meaning "flowers," draws its inspiration and actives from the beauty and power of the floral universe, the splendor and expression of art and ultimately the inexhaustible possibilities of science. These passions are synergistically combined with aromachology, fruits, minerals, floral waters and organic ingredients to create an effective and sensorial skin care line. Fleur's focus is blending effective treatments with a true spa experience in every facet - unique and imaginative treatments and techniques. We are one of the only spa brands with our own laboratory, allowing us to research and cultivate our own ingredients, develop unique cosmetic formulas, manufacture skin care products and create cutting-edge professional treatments to deliver remarkable results.