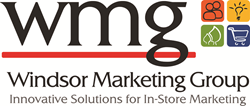 Joining USGBC is an example of our commitment to operating our business in a socially responsible manner
HARTFORD, CT (PRWEB) January 20, 2015
Windsor Marketing Group has joined the U.S. Green Building Council (USGBC) in its efforts to design and build environmentally responsible and sustainable communities.
Windsor Marketing Group is an innovative in-store marketing agency that creates, produces, and delivers shopper marketing programs that inspire and influence in-store buying patterns. The company was founded in 1976 and has grown to over 120 associates serving over 3,000 clients including some of the largest retailers in the U.S.
The USGBC's mission is to change the way buildings and communities are designed, built, and operated with a focus on enabling an environmentally and socially responsible, healthy, and prosperous environment that improves the quality of life.
The council consists of tens of thousands of 76 chapters, 12,800 member organizations and 193,000 LEED professionals.
The USGBC partners with companies that are considered industry leaders that support the USGBC's mission of a prosperous and sustainable future.
WMG has a longstanding tradition of environmental stewardship including the ongoing maintenance of its existing facility in Suffield, CT which includes the installation of a T5 lighting system with occupancy sensors throughout the building, the utilization of energy-efficient LED lighting in its parking lots, and its partnership with Connecticut Light & Power to further reduce energy consumption.
"Joining USGBC is an example of our commitment to operating our business in a socially responsible manner," said Founder and CEO Kevin Armata. "As we embark on expanding our Suffield facility in 2015 we will be looking to utilize the guidance and practices the USGBC community offers."
For more information on Windsor Marketing Group and its Social Responsibility program, visit windsormarketing.com.
ABOUT WINDSOR MARKETING GROUP
Windsor Marketing Group was founded in 1976 as an innovative in-store marketing group that creates, produces, and delivers shopper marketing programs that inspire and influence in-store buying patterns. The company utilizes cutting-edge technologies and creative innovations to assist its nearly 200 associates in serving over 3,000 retailers in the United States, including many of the nation's largest retailers.
WMG SOCIAL RESPONSIBILITY PROGRAM
Windsor Marketing Group operates in an environmentally, economically and socially responsible manner, with a long tradition of outstanding environmental stewardship.
Windsor Marketing Group is proud to be featured in the 2013 business management book, Conscious Capitalism, for its heroic efforts in building its state-of-the-art facility in Suffield, Connecticut during the recession of 2008.
To learn more about this and why Windsor Marketing Group is uniquely positioned to provide strategic solutions to all of its clients' needs, please visit http://www.windsormarketing.com.