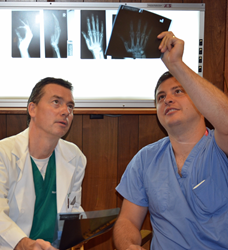 While the majority of elbow injuries will heal on their own a more severe injury is best treated with an evaluation by a doctor.
Santa Rosa, CA (PRWEB) January 22, 2015
According to a literature review in the May 2014 issue of the Journal of the American Academy of Orthopaedic Surgeons (JAAOS), overuse is the main cause of UCL (ulnar collateral ligament) injury. Participating in sports on numerous leagues and teams - particularly for youth - has contributed to as much as a ten times an increase of UCL reconstruction in just the last decade. For example, repetitive stress to a pitcher's UCL -- an important stabilizing ligament of the elbow joint -- can lead to pain and eventually to the inability to pitch and throw.
What Causes Elbow Pain?
Elbow pain is an extremely common complaint, and there are many common causes of this problem. An acute injury can be caused by a direct blow, a fall or by twisting, jerking, jamming, or bending an elbow abnormally. Pain may be sudden and severe and bruising and swelling may develop soon after the injury. Some common causes of elbow pain include:

Elbow Fractures - elbow fractures are most commonly olecranon fractures and radial head fractures
Elbow Dislocation - occurs when the upper arm and forearm get separated from their normal position
Tendonitis - affects any of the tendons that surround the joint; biceps tendonitis (in front of the joint) and triceps tendonitis (in the back of the joint)
Cubital Tunnel Syndrome - compression of the ulnar nerve that wraps around the inside of the joint causing elbow pain, shooting pains along the forearm and numbness and tingling of the fingers
Lateral Epicondylitis- tennis elbow - pain over the outside of the joint and difficulty gripping objects
Medial Epicondylitis - golfer's elbow - discomfort around the joint on the inner side of the joint
Olecranon Bursitis - swelling and tenderness behind the joint over the bony prominence (olecranon)
Radial Tunnel Syndrome - causes nerve compression of the radial nerve
Youth generally run the risk for elbow injury due to participating in contact sports such as football, wrestling, soccer, or high-speed sports such as biking, skiing, skating and hockey or skate/snowboarding. Older adults actually have a higher risk for injuries and fractures due to the loss of muscle mass and bone strength (osteoporosis) that occurs naturally as part of the aging process. Issues stemming from vision and balance can also increase the risk for accidental injury in older adults.
When Elbow Pain Becomes a Problem
"While the majority of elbow injuries will heal on their own a more severe injury is best treated with an evaluation by a doctor," says Dr. Mazur. "Treatment of conditions resulting in elbow pain need to be directed at the specific cause of the problem, and not all treatments are universal." Some signs that it's time to visit a doctor following an elbow injury include:
Swelling or significant bruising around the joint or arm
Elbow pain accompanied by fever, redness, warmth
Weakness or pain when carrying objects or when using the arm
Inability to straighten or flex the arm
Change in the appearance of the joint following injury
Elbow pain that persists or occurs at night or while resting
Elbow pain that persists for more than a few days
What are the best treatments for elbow pain?
The treatment of elbow pain depends entirely on the cause of the problem. SRO's Hand Center responds with the latest in orthopaedic technology and a collaborative relationship between the patient, physicians, therapists and professional staff in order to ensure the best treatment and outcome for patients suffering from upper extremity issues such as elbow pain.
Not all treatments are appropriate for every condition, below is a list of some of the more common treatments for elbow pain, depending on source of the injury/pain and the ultimate diagnosis;
Rest
Ice and Heat Application
Stretching
Physical Therapy
Anti-Inflammatory Medication
Cortisone injections
Arthroscopic Elbow Surgery
The Hand Center at SRO, led by Dr. Kai-Uwe Mazur and Dr. Mintalucci is also the only hand center in the North Bay that has orthopaedic surgeons who are fellowship trained in hand and upper body extremity surgery - helping to bring the best outcomes to patients suffering from an array of hand and upper extremity conditions. For more information on the SRO Hand Center or the other centers of excellence,visit our website or call (707) 546-1922 to schedule an appointment.
--------------
Resources: American Academy of Orthopaedic Surgeons. "Throwing injuries no longer just for pros." ScienceDaily. ScienceDaily, 30 April 2014. http://www.sciencedaily.com/releases/2014/04/140430133102.htm.
J. R. Bruce, J. R. Andrews. Ulnar Collateral Ligament Injuries in the Throwing Athlete. Journal of the American Academy of Orthopaedic Surgeons, 2014; 22 (5): 315 DOI: 10.5435/JAAOS-22-05-315